Butuan City – The Kapit-Bisig Laban sa Kahirapan – Comprehensive and Integrated Delivery of Social Services (Kalahi-CIDSS) Regional Program Management Office (RPMO) spearheaded a special meeting/forum to discuss the Kalahi-CIDSS Payapa at Masaganang Pamayanan (PAMANA) new fund management/disbursement/utilization guidelines and procurement processes for the CY 2015 project implementation.
Connie Acosta, Kalahi-CIDSS PAMANA focal person of the National Project Management Office (NPMO) was on hand to serve as convener to the forum, which was attended by members of the Municipal Inter-Agency Committee (MIAC) of the municipalities of Bayabas, Esperanza, Veruela, and San Miguel, the RPMO, and Municipal Monitors last September 16, 2015, at Almont Hotel's Inland Resort, Butuan City.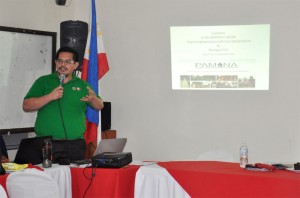 Also present was Engr. Abe Cea, National Procurement Officer, who shed light on the COA Circulars C1994-013 and C2012-001 and RA 9184 (Government Procurement Reform Act), which was the basis for the new guidelines of the Kalahi-CIDSS PAMANA implementation for 2015.
Since PAMANA is a Government of the Philippines-funded project, it adheres to the procedures of RA 9184, wherein a new set of guidelines will be followed in the procurement process to be conducted by members of the Barangay Sub-Project Management Committee (BSPMC), who are community volunteers. These changes have already been integrated to the Community Participation in Procurement Manual (CPPM), which will be followed by communities who will implement Kalahi-CIDSS PAMANA.
As for the COA Circulars C1994-013 and C2012-001, project funds, which were originally downloaded to the BSPMC-managed account, will now be transferred to the Barangay Local Government Unit, who will open a Trust Account solely for the purpose of Kalahi-CIDSS PAMANA implementation.  Both PAMANA funds from DSWD and Cash Local Counterpart Contribution, if any, shall be deposited to the Trust Account. All other guidelines for all the other activities of the project implementation cycle will follow the Kalahi-CIDSS procedures.
Assistant Regional Director for Operations, Mita Gupana-Lim, welcomed the new guidelines, saying that this will be a venue for the project to strengthen the second objective of Kalahi-CIDSS, which is to improve local governance. Assistant Director Lim hopes that communities, who have implemented Kalahi-CIDSS PAMANA using the old system, will have a smooth transition in their project implementation, especially the community volunteers who will actively manage and implement the project.
All the municipalities who are part of the Kalahi-CIDSS PAMANA 2015 implementation will now utilize the new guidelines. The RPMO will ensure that the proper cascading of the guidelines will be in place, and that technical assistance will be ready for anyone who will need it. ###(MARKO DAVEY D. REYES/Social Marketing Unit/DSWD Field Office Caraga)