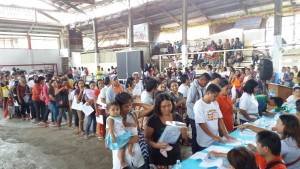 San Francisco, Agusan del Sur– The Department of Social Welfare and Development (DSWD) Field Office Caraga, through the Pantawid Pamilyang Pilipino Program-Provincial Operations Office of Agusan del Sur, conducted its first over-the-counter (OTC) pay-out with partner civil society organizations (CSOs) on September 3, 2015 at Alegria Gym, San Francisco, Agusan del Sur.
The said pay-out covers the municipality of Rosario with 238 beneficiaries and the municipality of San Francisco with 582 beneficiaries to receive their grants over-the-counter.
Booths and promotional stalls were installed by partner-CSOs to entertain the partner-beneficiaries while waiting to receive their grants.  Among the CSOs that participated were the Sibog Katawhan Alang sa Paglambo (SIKAP Incorporated), Justice, Peace, Integrity, and Compassion (JPIC), Rosario Evangelical Churches Ministry Association Incorporated (RECMAI), Agusanon Para sa Bag-ong Pilipino (AgusPinoy), The Generics Pharmacy (TGP), and Foundation for the Development of Agusan Incorporated (FDAI).
Civil society is the "aggregate of non-governmental organizations and institutions that manifest interests and will of citizens." Civil society includes the family and the private sphere, referred to as the "third sector" of society, distinct from government and business.(Social Marketing Unit/DSWD Field Office Caraga)