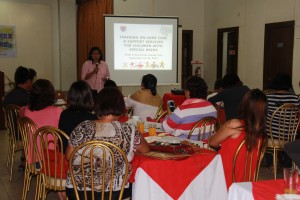 Butuan City – In order to strengthen advocacy on Home Care and Support Services for Children with Special Needs (HCSSCSN), the Department of Social Welfare and Development (DSWD) is conducting today until Friday at Prince Hotel, this city a training on HCSSCSN participated by community-based rehabilitation (CBR) volunteers/workers from the 15 municipalities in the region.
Social Welfare Officer Wilma Geralla, Persons with Disability (PWD) sector focal person, bared during her opening message that the invited municipalities are those whose local government units (LGUs) are identified as PWD friendly.
Geralla added that the training intends to equip the CBR volunteers with appropriate knowledge, skills, and attitudes to facilitate provision of HCSSCSN in their respective locales.
"The support of the neighbors and communities are needed by the families who have children with special needs. This is the very reason why we are conducting this training to capacitate our CBR volunteers in assisting and educating these families regarding home care and support services as well as the rights and privileges of the PWDs." she said.
In the three-day training, methodologies such as lectures, group discussions, sharing of experiences, demonstration, and workshop activities will be conducted.
Rev.Fr. Rex Casion, parish priest of Casilag Church in the city, community-based social worker Vilma Bare, Roving Day Care Worker Lydia Dampios, Physical Therapist Cristine Sabandal, Rehabilitation Medicine Dr. Renato Jose Villanueva of MJ Santos Hospital, and SPED teacher Euvil Mejias are the expected resource persons of the activity.
The topics to be discussed are the following: (1) Overview and Guidelines of the HCSSCSN; (2) Working with CSN (Spiritual Perspective); (2) Principles and Application of Persons-Centered Approach; (3) Case Management; (4) How to Communicate with the CSN; (5) Physical Therapy and Strategies of Rehabilitating Children with Muscular impairment; (6) Health and Wellness Program for CSN; (7) Roles and Functions of CBR in Managing the Behaviour of Children with Special Needs; and (8) Programs and Services in Tuloy-Aral-Walang-Sagabal Program.
The HSSCSN is a community-based program developed and implemented by DSWD. The program involves the community/neighborhood to take effective steps to enhance care-giving abilities of the families to look after children with special needs. It also strengthens the concept of social responsibility among community members who would volunteer their services to care for the PWD sector. ###(Social Marketing Unit/DSWD Field Office Caraga)