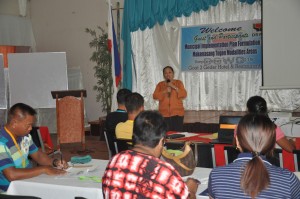 Butuan City – The Kapit-Bisig Laban sa Kahirapan – Comprehensive and Integrated Delivery of Social Services (Kalahi-CIDSS) – Caraga spearheads the conduct of the Municipal Project Implementation Plan (MPIP) formulation for Makamasang Tugon (LGU-led) municipalities held at Goat 2 Geder, Butuan City on September 9-11, 2015.
The said activity is attended by regular Kalahi-CIDSS municipalities who will transition to Makamasang Tugon (an LGU – led Community-Driven Development (CDD) modality), this after the municipalities have completed the 3 cycles of the program implementation satisfactorily.
The municipalities of Veruela, Santa Josefa, and Santa. Monica have each sent delegations composed of the Municipal Planning and Development Officer, Municipal Budget Officer/Municipal Accountant, Local Poverty Reduction Action Team (LPRAT) Representative, Municipal Social Welfare and Development Officer, Gender and Development Focal, Municipal Local Government Operations Officer, Municipal Area Coordinator, and three members of the Municipal Area Coordinating Team – all of whom have very important roles in coming up with the necessary guidelines and plans in the proper implementation of MT modality in their respective municipalities.
Makamasang Tugon or the Community-Driven Development – Local Planning Process (CDD-LPP) is an initiative that integrates CDD principles and processes in the local planning and investment programming cycle, by way of an LGU-led implementation scheme of the Kalahi-CIDSS' CDD technology.
Ester Villamor, Regional Deputy-Program Manager of Kalahi-CIDSS, who opened the forum in behalf of Regional Director Minda B. Brigoli, was very positive in the outcome of the conduct of the activity. She hoped that the participants, who are already proven active supporters and workers of the regular Kalahi-CIDSS implementation, will be able to come through with the necessary work plans critical for a successful MT pilot for their municipalities.
It is the optimism of Kalahi-CIDSS that municipalities who would be able to graduate/complete the regular Kalahi-CIDSS program are able to adopt and institutionalize Community-Driven Development (CDD) in implementing their local planning, investment and program/project implementations. ###(Social Marketing Unit/DSWD Field Office Caraga)