Tandag City – A Pantawid Pamilyang Pilipino Program beneficiary has praised the Department of Social Welfare and Development (DSWD) for coming to their aid when their family was in strife after displaced from their homes last September 1, 2015 after tensions between the New People's Army and Philippine National Army intensified.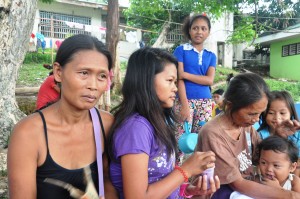 Julieta Bada, a mother of 5, and a resident of KM 14, Lianga, Surigao del Sur, has expressed her appreciation for DSWD, saying that in times of their hardship, the Department has provided their needs at the evacuation center in Surigao del Sur Sports Center, Tandag City.
"Pait pamalandungon nga nabiyaan namo among balay, kabtangan ug panginabuhian tungod sa problema sa siguridad sa amo, apan mapasalamaton kami nga maski anaa na kami dri, duna gihapoy tabang sa DSWD nga among nadawat  (It is sad to think that we have been displaced from our homes, leaving behind our belongings and our livelihood because of the security issues in our community, but we are thankful that DSWD has provided us with the necessary assistance)," Julieta said.
She and her 5 children have been in the evacuation site for 10 days. According to her, they have been provided with food and non-food items that were enough for her family to last those 10 days, and that they were confident that DSWD will continue to provide for their needs in the upcoming  days.
"Gihatagan mi nila ug mga gamit pangkatulog, uban sa mga sabon ug kinahanglanon sa matag usa kanamo. Kaduha napud mi nahatagan ug food packs, ug ganina gihataga sa amo sa taga DS ang donations sa GMA (We were provided with articles for sleeping and toiletries for the whole family. They have also given us food packs twice, and earlier, DSWD distributed donations turned-over to them by the GMA Kapuso Foundation)." Julieta added.
Despite the help they are getting from DSWD and the different national agencies, non-government organizations, provincial/local government unit, she says that she could not get rid of the worries regarding their situation. The fact that they have left their homes, and that the latest news she had received was that their farm animals are gone, only adds up to the anxiety she feels.
DSWD will be there
Amidst the distress they are in right now, Julieta is confident that the government, especially DSWD, will help them with their problems.
 "Kabalo ko dili mi pasagdan sa DSWD. Hinaot nga sa among pag-uli, matabangan gihapon mi sa DSWD sa pagpaayo sa among balay kay aduna kunoy mga guba tungod sa nahiyabong gubot. Kabalo ako nga tabangan mi sa DSWD sa among panginabuhian kay dunay daghan ayuda ang DSWD alang sa mga kabus nga susama kanako  (I know the government will not abandon us. We hope that when we get back home, DSWD would be able to help in fixing our house since it was damaged when we hurriedly left. I know DSWD will help us with our livelihood because DSWD has a lot of programs and services for poor families like me)." Julieta expressed.
Julieta's family is one of the 301 Pantawid Pamilya  partner-beneficiaries among the 627 displaced families currently housed in the two (2) evacuation centers in Surigao del Sur.
To date, DSWD Caraga has augmented 2,224 family food packs worth Php930,340.68, Php136,416.68- worth of non-food items, and 104 boxes (each box contains 24 individual packs) of nutria cereals worth Php122,304.00 – a total of Php1,189.064.36 augmented by DSWD Caraga.  ###(Social Marketing Unit/DSWD Field Office Caraga)