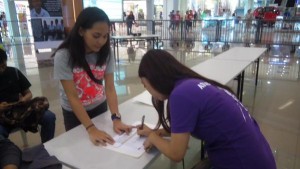 Butuan City– Selected Pantawid Pamilyang Pilipino Program parent leaders in this city head the recently conducted signature campaign as support to institutionalize the Pantawid Pamilyang Pilipino Program.
The said signature campaign, which was held on September 25, 2015 at Robinsons Place in the city, aims to provide awareness to non-program beneficiaries about the move to institutionalize the program, share the story of change in the lives of partner-beneficiaries through a testimonial message, and gather the support of non-beneficiaries.
As the closing of the 16th congress is about to happen, Pantawid Pamilya parent-leaders seek support from and amongst the legislators to pass and make Pantawid Pamilya bill be part of the priority bills to be included on their discussion as the body resumes on office.
"Kani usa lamang sa among gamay nga mga hangyo sa atong mga mambabalaud nga suportahan ang maong programa (This is one of the many request we have to our legislators to support the institutionalization of Pantawid Pamilya)," parent leader Mrs. Leah Rebuta said.
"Maayo ug hapsay nga gipatigayun sa programa ang tanan nga mga kondisyon nga ilang gipangayo. Tungud sa Pantawid Pamilya, nakapa-skwela ko sa akong mga anak, kanunay nako sila nga ginapasulud sa mga health centers, ug ako isip ginikanan, kanunay pud nga nagatambong sa kada-bulan nga gina-conduct nga Family Development Session (FDS) (Pantawid Pamilya clearly and properly sets the conditions of the program. Because of it, I was able to send my children to school and health centers, and I, as a parent, attend to the monthly-held FDS)," she expressed.
Pantawid Pamilya is now the government's centerpiece development program intended to break the intergenerational cycle of poverty problem in the country. Pending in congress is the unnumbered consolidated bill which seeks to institutionalize the CCT program (commonly known as Pantawid Pamilyang Pilipino Program) prepared by the committee on Poverty Alleviation and pending still at the Committee on Appropriations, for its subsequent submission for 2nd Reading at the Lower House, and SB 1152 in the Senate which is still at the committee level.
Because of the continuing move to institutionalize the program, Pantawid Pamilya is able to increase the level of well-being of 183,620 Pantawid Pamilya partner-beneficiaries in Caraga Region. This is made all possible with the interventions provided by partner-government agencies, partner-civil society organizations, and other stakeholders (###DSWDFieldOfficeCaragaSocialMarketingUnit###).