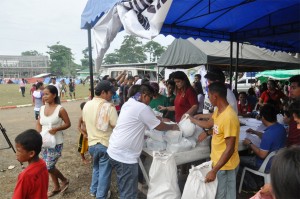 Tandag City – The Department of Social Welfare and Development (DSWD)-Caraga continues to monitor and provide relief services to the 599 families (3,145 individuals) currently evacuated at the Surigao del Sur Sports Complex, this city.
Families from Tago, San Miguel, San Agustin, Marihatag, and Lianga, Surigao del Sur are now seeking accommodations at the sports complex since September 1, 2015 after fleeing their areas after tensions escalated between the Armed Forces of the Philippines and the New People's Army.
DSWD, together with the Provincial Local Government Unit (PLGU) of Surigao del Sur, LGU of Tandag, National Agencies and Non-government Organizations, have intensified relief operations to serve the different needs of the internally-displaced families (IDPs) at the evacuation site.
Individuals and cause groups/foundations have also coordinated with DSWD-Caraga in providing food and non-food items to the families. There were families from Tandag City who celebrated their town fiesta by coordinating with the DSWD in sharing their celebratory meals to the displaced families.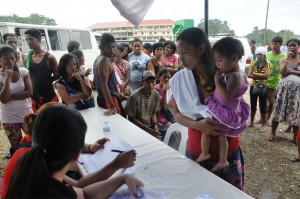 An initial meeting between representatives of the Department, provincial governor's office, and the Provincial Disaster Risk Reduction and Management office was held last September 10, 2015 to discuss strategic plans in the continued relief operations and to discuss an integrated meeting with the aforementioned agencies/offices together with the LGUs of the affected municipalities and the other agencies critical in the sustained relief efforts, scheduled on September 11, 2015.
DSWD Caraga has also extended services and distributed food/non-food items to 28 families (140 individuals) temporarily placed at Janipan Gym in San Agustin, Surigao del Sur.
As of September 10, 2015, the regional office has augmented 2,224 family food packs worth Php930,340.68, Php136,416.68-worth of non-food items, and 104 boxes (each box contains 24 individual packs) of nutria cereals worth Php122,304.00 – a total of Php. 1,189.064.36 augmented by DSWD- Caraga.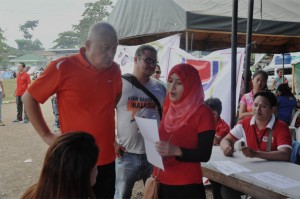 The Department will continue its relief efforts and monitoring to these displaced families until they are all ready to be back to their respective homes/communities, and will see to it that they will be provided necessary social services once they are back in their community to ensure that the displaced families will also be able to have the adjustments for their reintegration to their communities. ###(MARKO DAVEY D. REYES/Social Marketing Unit/DSWD Field Office Caraga)