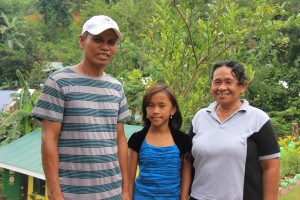 When the light is on and the services are ready, positive change can happen.
In an islet barangay of Sering, municipality of Basilisa in the Province of Dinagat Island, sweet couple Jimmy and Bella Sinugbuhan are living at peace with their four children, namely Bengie, Ariel, Sharie Yves, and Scarlette Jianah.
Their humble family is one of the Set 1-A registered partner-beneficiaries of the Pantawid Pamilyang Pilipino Program after their family was enumerated last 2008. Identified as a family at the survival level during the first wave of the Social Welfare Indicator (SWI) matrix, tangible documents show how the couple crossed fingers to raise their children amidst poverty.
Helping each other as a family
Jimmy sails the ocean for food. The needs of the family demand more from Jimmy to do extra-efforts to fully assist and sustain the needs of his children especially that he has two (2) children enrolled in college at this time. Other than being a fisherman, he also works as a carpenter. Bella on the other hand sells "kakanin" in their barangay and in schools to help her husband. Sometimes, she assists Jimmy in pitching the fishing nets.
The couple shares the many times they eat "kamote" since their income goes directly to the needs of their children in school.
Despite the odds of life, they continue encouraging each other that one day, with combined efforts, trust and love, they will surpass all the trials. During the graduation day of their eldest son Bengie, the couple realized that all efforts pay off when their children receiving their diplomas.
Their being genuine people are manifested in all the things that they do. Jimmy as an active former barangay captain continues to show the qualities of being a good leader to his neighbors and to his family.  He continues to attend community meetings, barangay consultation meeting and even invited meetings from the municipal level. He encourages his sons and daughters to study hard since the couple believe that education would be their greatest gift to their children.
Bella at the same time shows her cara to her sons and daughters by reprimanding them when they commit mistakes and explaining to them the consequences of their actions. She also inspires her children to study hard because it's only through education that they could give them the things they desire in life.
Aside from being a good mother, Bella is also a good "baryohanon" (a member of the society who is active in all community activities). Bella shares how Pantawid Pamilya has changed her perspective in helping others best (She is now serving as Barangay Kagawad in Barangay Sering years after she became the Federated Vice- President of Pantawid Pamilya in their locality).
Her position as Barangay Kagawad hasn't stopped her to continue her assignments as a parent leader. Bella imparts that it is through Family Development Session (FDS) that gives her additional knowledge about family, community, love, rights and many more.
Her participation in various activities has made Bella a desirable person. To note, Bella is the Federated President of the Municipality of Basilisa Women's Association, Federated Vice-President of Pantawid Pamilya during the early years of program implementation in their municipality. Other than this, Bella also attended seminars on Project Proposal Writeshop, Provincial Business Enhancement and Education Seminar for Business Enterprises and Cooperatives, Environmental Summit; was awarded by PhilGrassRoots-ERDF as one of the Best Mangrove Conservation Advocate in Barangay Sering, successfully completed the Skills Training on Peanut Processing, recognized for her untiring support on Responsible Parenting Movement-Natural Family Planning Program (RPM-NFP), has attended workshop on Solid Waste Management and Environmental Engineering, has attended training on Capability Building for Parent Leaders sponsored by DSWD FO-Caraga, attended Gender Sensitivity Trainings and a lot more trainings to count.
Fruits of their love
The dedication of the couple in helping others and their intention to surpass the challenges in life dwells in the blood of their children. Their eldest son Bengie graduated his degree on Bachelor of Science in Criminology at North Eastern Mindanao Colleges in Surigao City, Surigao del Norte. Now, he is working as Police Inspector in Alegria, Agusan del Norte.
Ariel, their second son has just received his license as Civil Engineer last December 2014 and now working as a technical facilitator of the KALAHI CIDSS program. Also, Ariel was the only recipient of the Commission on Higher Education (CHED) One Town One Scholarship Program after he passed the techy entrance examination of the said agency.
Sharie Yves at the same time is a recipient of the Tulong Dunong Scholarship program of CHED funded by Congresswoman Bag-ao. She is now a third year college student taking the degree Bachelor of Science in Hotel and Restaurant Management in Surigao State College of Technology in Surigao City. She just finished the Food and Beverages Services NC II for Six (6) months under the Technical Education and Skills Development Authority (TESDA) social services program.
The couple's youngest Scarlette Jianah is now a grade five (5) student and is a consistent first honor student of Sering Elementary School (SES). She is the consistent representative of SES in all Metrobank-Mathematics Teachers Association of the Philippines-DepEd Math Challenge (MTAP-MMC) competition in their cluster. Other than being a good math student, Scarlette is also a declaimer in their school.
These achievements are brought by trust and discipline within Sinugbuhan's family. The unity that is inherent within their family has made them the person they are now today.
Responsible parents, community members
The dedication that is imminent within them has grown so vividly that even their neighbors are encouraged and inspired to follow what Sinugbuhan's family has done to their family and to the community they are living in.
Pantawid Pamilya has helped them to start a life. As Bella claimed, if not because of Pantawid Pamilya, she could not pay on-time the school fees, could not buy enough vitamins for Scarlette, and perhaps, could not learn some of her rights as a woman, the rights of the child and many more through the FDS that she is attending every month.
Other than being an active partner-beneficiary of Pantawid Pamilya, Sinugbuhan Family is also an active member of the Sustainable Livelihood Program. Bella's group was able to attend the Hog Raising (Natural Farming Technology System) Training before their group was granted with 10 head piglets as their group's starter kit.
The couple has also shown an active involvement in the Kapit-Bisig Laban sa Kahirapan-Comprehensive and Integrated Delivery of Social Services (KALAHI CIDSS) implementation in their barangay. Hon. Barangay Captain Rodrigo S. Bete of Sering shared his observation about the couple on how they encouraged other volunteers to support the implementation of the program so their sea wall project will be established at the given timeline.
Furthermore, Bella's position as a Barangay Kagawad has made her support and sustain their project on the conduct of feeding programs and Pamaskong Handog to persons with disability and solo parents in their community.
Based on the SWI-Wave 4 (As of November 30, 2013), Sinugbuhan Family has taken steps upward from the survival level of well-being, now as a self-sufficient.
These are all made true with the combined efforts of their family and the various interventions  given by the Department of Social Welfare and Development (DSWD) and other partner-non-government agencies (###DSWDFieldOfficeCaragaSocialMarketingUnit###).