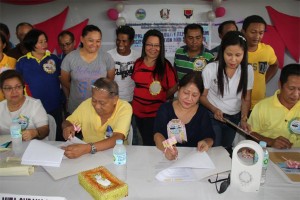 Surigao del Sur – "We have to continue what we have started and we must ensure that we continue on the gains we have had with Kalahi in the previous years". Regional Director Minda B. Brigoli encouraged the jam-packed crowd at the Barobo Municipal Gym, Barobo, Surigao del Sur last October 15, 2015 during the conduct of the Municipal Orientation and Memorandum of Agreement signing for the cycle 2 implementation of the Kapit-Bisig Laban sa Kahirapan Comprehensive and Integrated Delivery of Social Services – National Community-Driven Development Program (NCDDP) modality.
Barobo is among the forty-six (46) municipalities who will implement the 2nd cycle of the Kalahi-CIDSS NCDDP for 2015-2016. The Regional Program Management Office (RPMO) is now fast-tracking the Municipal Orientation for cycle 2 so that there will be a better transition for the communities who have just completed the 1st cycle.
Included in the 2015-2016 Kalahi-CIDSS implementation are the eight (8) new areas, who will be implementing their 1st cycle of the NCDDP modality. There is a gap for the implementation between municipalities since the 2014-2015 implementation was focused on the 377 areas (poor municipalities that were affected by Yolanda), and the 177 areas (non-poor municipalities that were affected by Yolanda). As for the new municipalities, they are categorized under 293 areas (poor municipalities but not affected by Yolanda).
During the Municipal Orientation, the RPMO highlighted the changes in the implementation process, especially for old municipalities since the 2015-2016 implementation will utilize the Standard Community Empowerment Activity Cycle (CEAC), which is a set of activities strategically conducted to prepare the community on the program implementation, in which the community and all partner-stakeholders will be empowered through the process. Old municipalities have implemented the previous cycle using the Accelerated CEAC to fast-track the implementation in response to the damage of Typhoon Yolanda.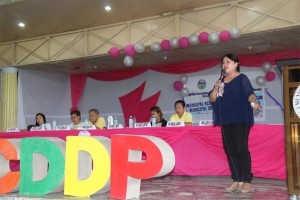 Per the Regional Director's instructions to the RPMO, all Municipal Orientations must be completed by the end of October so that implementing municipalities and communities may proceed with the preparatory activities of the CEAC. This is true to the testament of excellence DSWD – Caraga has upheld in implementing the different programs and services for the people of the region. Director Brigoli has always made sure that the implementation of Kalahi-CIDSS follows the timeline and is completed within the timeframe to ensure that the different beneficiaries and stakeholders benefit from the sub-projects the soonest.
Kalahi-CIDSS is a poverty alleviation program of the National Government implemented by the DSWD. Its development objective is to have barangays/communities of targeted municipalities become empowered to achieve improved access to services and to participate in more inclusive local planning, budgeting, and implementation. ###(MARKO DAVEY D. REYES/Social Marketing Unit/DSWD Field Office Caraga)