Gina-klaro sa DSWD nga ang mga listahan nga gipaskil karon sa mga munisipyo/syudad o barangay, mao kani ang INISYAL na lista sa mga KABUS (POOR) o DI-KABUS (NON-POOR) base sa pag-analisa nga gibuhat sa Proxy Means Test (instrumento nga gigamit sa Listahanan nga proyekto sa DSWD human nakalikom ug datos gikan sa gipahigayon nga 2nd round family assessment sa rural ug urban areas kaniadtong Mayo-Agosto).
Gituyo sa DSWD nga kaning INISYAL nga LISTAHAN makit-an sa PUBLIKO aron ang mga katawhan makatabang ug VALIDATE kung ang maong datus kay SAKTO, TINOOD, SIGURADO, ug KOMPLETO.
Pamalihug sa DSWD nga ang tanan mubisita sa ilahang mga barangay hall o municipal/city hall para tan-awon ang ilang mga pangalan kung aha sila nabutang-kung sa POOR o NON-POOR.
Dugang pagpa-klaro sa DSWD nga kung ang isa ka pamilya nasulod sa listahan sa NON-POOR dili ni nagapasabot nga kani sila DATO na, kundili kani nagpasabot nga niangat na ang kalidad  sa ilang panginabuhi. Ang mga anaa usab sa POOR mao kani sila ang mga na-sulod sa kategorya nga POBRE sa PINAKA-POBRE (POOREST OF THE POOR).
Kung adunay REKLAMO sa listahan nga among gipang-paskil, palihug pakig-kitai ang AREA SUPERVISOR nga staff sa DSWD nga anaa karon naka-base sa matag syudad/munisipyo.
Kaning mga reklamo nga isaka sa katawhan aksyunan gayud ni sa DSWD.
Dugang pahinumdom sa DSWD nga kaning listahan ipaskil lamang gikan Oktubre 12-Nobyembre 3, 2015.
Namalihug ang buhatan sa DSWD nga ang tanan naabtan niani nga sibya nga mutabang ug ingon ug pasabot sa atong mga kasilinganan o ka-parentehan nga hatagan kaning mga listahan ug dyutay nga pagtagad tungod kay kaning mga datus kung ma-finalize na, mamahimo kaning basehan sa nagkadaiyang buhatan nga ga-implementar ug mga programa/serbisyo sa social protection.
Usab, ang DSWD gapahinumdom nga ang LISTAHANAN usa ra kini ka proyekto sa DSWD nga nag-ila kung KINSA ug ASA ang mga KABUS diri sa atong nasud. DILI kani  usa ka PROGRAMA nga gahatag ug benepisyo. Kani nga PROYEKTO usa lamang ka-TALAAN sa mga KABUS ug ang DATUS niining proyekto ginagamit sa ubang ahensya nga adunay mga programa ug serbisyo.
Palihug tawag sa (085) 342-5619 loc. 203 kung adunay dugang pangutana kabahin niani nga sibya.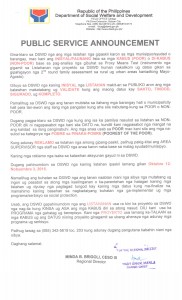 Daghang salamat.