Traveling through life is usually compared to traversing a long road. Roads get to be smooth, but from time to time, it gets bumpy. There are parts of the road which goes up, then down; it goes straight, but there are times it is winding. There are crossroads, intersections, where you have to choose the path to tread. It would be great if that long road only had little bumps, straight, and only had a few crossroads to distract you – that would be a great life. But what if it is the opposite?
But for the people of Villa Riza, Malimono, Surigao del Norte, their road condition literally mirrors that of their lives – their community. As one resident commented, their road, just like their living condition, is "walay paglaum, walay nada (hopeless and worthless)."
Villa Riza is one of the interior barangays of Malimono. Like any other barangay, access to the Poblacion is very critical, especially if schools, hospitals and the business district are located in there.
A farming community, it has always been the road condition that has hampered growth and development of the barangay.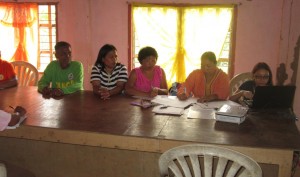 Fifty-six year old Lydia Ocon Ando, a resident of Purok 1in the village shares how it is to be a farmer in their community. "Kami sa akong bana puro mi mang-uuma. Ga tanom mi ug camote, cassava, ug mga gulay. Ang among tanum igo ra pud sa among konsumo, ug naay parte ibaligya namo sa among mga silingan. Lisod magtanum ug daghan kay lisod ibaligya sa sentro – lisod ang sakyanan kay tungod sa among dalan (Both me and my husband are farmer. We plant sweet potato and cassava, and some vegetables. We make sure that we only plant what we need, sometimes have some extra to sell to our neighbors. But we never try to plant in large amounts since we could not sell our products in the Poblacion because there is a problem with transportation because of the road condition)," she said.
Residents had to pay Php130.00 for habal-habal fare going to the town. Add to that very dangerous road they had to travel, this caused people in the community to become distant from the rest of Malimono. They said they would rather stay in their community and live simple lives.
Living a simple life in their quiet and peaceful community sounds good. But the simplicity of their lives meant that pregnant women at risk since their birthing home is located at the Poblacion. Their productivity was also limited, and students no longer dreamt of continuing college education since they are too far from schools.
"Adunay mga parte sa among dalan nga grabe ka lisod. Labi na ang mga medyo bahada. Ug maatiman lang na among dalan, dako jud ang matabang sa among barangay (There are certain parts of our barangay road which is in really bad condition. Parts of the road which are sloped and in really bad condition are the hardest part. If there was only any chance to fix our road, it would really help our community)," Manang Lydia said.
Their prayers were answered. Malimono was part of the Kapit-Bisig Laban sa Kahirapan – Comprehensive and Integrated Delivery of Social Services (Kalahi-CIDSS), one of the core anti-poverty programs of the Department of Social Welfare and Development (DSWD) which employs the Community-Driven Development (CDD) strategy in bringing services to poor and marginalized barangays.
Ass one, the community voted to have the improvement of their access road. It was their major problem; the one thing that has hindered progress in their barangay.
The community felt rejuvenated as they attended one Kalahi-CIDSS to another. Their hopes were high that this time, their road problems will now be resolved.
Manang Lydia was voted Procurement Team chairperson. With the position, she was in-charge of the canvass and purchase of project materials. She said that it was not an easy task for her since it was her first time to be part of a project implementation. According to her, the process was difficult and meticulous.
But there was no backing down. She saw the uniqueness of the program, and she was convinced that it will surely deliver what they need, and in the process, empower the people in the community.
"Nakita nako nga nindot ang epekto sa proyekto. Kami nga mga volunteer kayod lang sa trabaho. Pero ang nakagana namo mao ang suporta sa among mga silingan nga wala naapil as volunteers. Nagsalig sila sa amo. Naghatag sila ug panahon sa pagbisita sa amo labi na nga kamulo na mi ug trabaho aron kamustahon among kahimtang (I saw the beauty of the project. We were relentless in our work. What gave us the encouragement was the support of our neighbors who did not volunteer. They supported us by showing that they trust us with our endeavor. They even visit us while we were working on the project)," Manang Lydia said.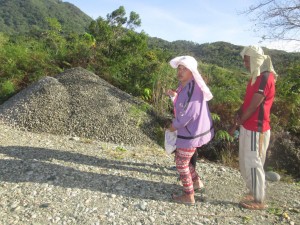 Their community sub-project was instrumental in strengthening their community's bond. As they were nearing the completion of their 200 linear-meter road concreting, the closer they were at achieving their dream of paving a better access to the poblacion.
Narrowing the Distance
Barangay Villa Riza celebrated after their sub-project was completed. What was sweet about their success was the fact that they were the ones who decided on it, prepared the project proposal, processed the necessary papers and transactions, and actively monitored and implemented the road improvements.
"Dako kayo among kalipay. Kada agi nako sa among dalan makaingon ko nga wala nausik ang among mga kahago kay anaa naman among nakita ang sementado nga kalsada. Nasiguro pud namo nga wala nausik ang buhis sa atong katawhan kay lahad gayud ang pagtrabaho namo sa among sub-project (We are very happy. Every time I get to pass by our improved road, I can positively say, our hard work paid off because we could now enjoy it. We have also achieved in making sure that our taxes are not put to waste because we ensured our implementation to be transparent)," Manang Lydia said.
A few weeks after sub-project was completed, the fare to and from the barangay was lowered to Php100.00 since there are more habal-habals who would travel to the area. The residents can now easily travel their goods to the poblacion since jeepneys and multicabs can now pass through the areas which were unpassable by 4 wheeled vehicles before.
The community acknowledged the uniqueness of Kalahi-CIDSS as the reason why it was effectively implemented by the community.
They became distant from the rest of Malimono because of their road condition. Now, they stood up for their community and paved the way towards progress. And they did this by themselves. They stood up and said, "we have to do something about this". And that is just what the people of Villa Riza did. ###(MARKO DAVEY D. REYES/Social Marketing Unit/DSWD Field Office Caraga)