"Remember that the happiest people are not those getting more, but those giving more."
― H. Jackson Brown Jr.
There are those who see the beauty in diversity. With diverse ideas and beliefs comes different
ways and means to solve problems.
Villagers of Barangay One of the eleven barangays of Kitcharao, Agusan del Norte, Bangayan consists of 3 Puroks vastly scattered in a total land area of 9,276 hectares, with bountiful upland and lake expanses. Based on the population census for 2013 conducted by the local barangay unit, total population of the Bangayan is 1,708 which is comprised of 952 males and 898 females. It has a total household of 258, majority of whom are members of Indigenous Peoples (IP) tribes.
From the 258 households, there are 122 Manobo households, mostly occupying the Lake Mainit area, and 47 Mamanwa households, living in the upland area, known as Purok Zapanta Valley. With such a large area and with different cultures, one would immediately realize how challenging it would be to run things at the barangay level.
The Kalahi-CIDSS Experience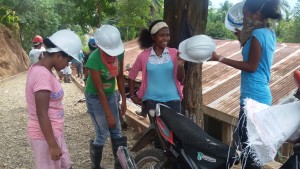 When the Kapit-Bisig Laban sa Kahirapan – Comprehensive and Integrated Delivery of Social Services re-entered Kitcharao in 2014 for the National Community-Driven Development Program modality, there was a clamor on what part of Barangay Bangayan the sub-project would be built in. Every Purok wanted something for themselves, every tribe wanted the sub-project to serve their own circle.
Evangeline Jambong, 26 years of age, one of the residents of Barangay Bangayan experienced firsthand how hard it is to appease every one of their wants.
"Kami sa Purok Zapanta, gusto namo ug proyekto duol sa amo. 9 kilometros among purok sa sentro sa barangay mao dili namo mabati ug ang proyekto sa sentro ibutang (In Purok Zapanta, we wanted a project within our community. Our Purok is 9 kilometers away from the center of our barangay, so any project situated anywhere near the center of the barangay is disadvantageous to us)," Evangeline said.
It was indeed a challenge for the Area and Municipal Coordinating Teams of Kitcharao in explaining further the importance of a consensual decision by the community on what sub-project to fund.
By letting everyone understand the pros and cons of what they wanted to happen, the community decided to come up with something that would serve the purpose for everyone in the barangay. One thing they realized, is that women, whether Manobo, Mamanwa, or Bisaya have the same biological needs, and this is in giving birth. Kitcharao has 1,236 families under the regular Pantawid Pamilya Program, and 307 families under the Modified Conditional Cash Transfer (MCCT).
"Ang dalan padulong sa among birthing home guba kaayo. Ug mag-ulan lisod tungason. Kami taga Zapanta diha magpa check-up ug manganak, apil na usab ang mga taga lain nga purok. Mao kami tanan nagkasinabot nga mao kana ang among pundohan para sa among sub-project (The pathway going to our barangay birthing home is in really bad condition. When it rains, people really have a hard time going up there. All of us in the barangay, regardless of what Purok, goes there to give birth or have regular prenatal check-up. That is why we decided to have the road concreting as our sub-project)," Evangeline shared.
It was a done deal. The community decided unanimously that the concreting of the pathway going to their birthing home was top priority. Every pregnant woman needed to use the facility, and it was very helpful to Pantawid Pamilya partner beneficiaries from their barangay who accessed the birthing home for compliance of the program.
Evangeline: The Woman Laborer
When barangay Bangayan was prioritized for Kalahi-CIDSS (NCDDP) 1st cycle, everyone was in high spirits. The community will now have a better access to their birthing home – the same access also led to their barangay multi-purpose building, barangay hall, and the Alternative Learning System (ALS) Center. Evangeline was part of the decision making, but she never imagined she will be part in working for their 105 linear meter concrete pathway.
Kalahi-CIDSS ensures that the program provides opportunities for everyone, men and women alike, IPs, included. The program believes in the concept of inclusive growth and development – all has an important part in the development of a group or community.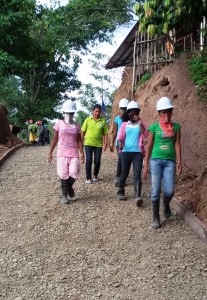 Barangay Chairman Nonito Senonis tapped Evangeline to look for women who would like to work at the project site, and will be compensated for their services. Evangeline saw this as a great opportunity. She and her neighbors are farmers by profession, but it was still a little over one (1) month before they would be able to harvest their crops. This would be a good source of income for her and her friends.
Evangeline agreed to be part of the women work force for Purok Zapanta, which included her neighbors, Laica Calipayan (20 yrs. old), Liza Calipayan (19 yrs. old), and Irene Anlagan (18 yrs. old). But there was a catch; the group would spend Php 200 for their one-way fare going to the sub-project site. During their first day of work, Nonito was astonished of how diligent the four women were in their work. He saw that they were at par with the men working, even moving on a faster pace at times.
"Nakita nako ilang kakugi mao nagdesisyon ko nga mangita ug pamaagi nga aduna silay masakyan kada-adlaw ug dili na sila mogasto pa ug pamiliti (I saw how hardworking they were. That is why I tried to find ways for them to have a regular ride going to work so that they will no longer spend money for their fare)," he said.
The chairman delivered his promise. The women were now regularly fetched by a motorcycle to and from the sub-project site. At times, when they had to do overtime, the chairman ensured they had a place to stay for the night. This to the women, was special.
Evangeline found purpose in what she was doing. She never thought it was even possible for her to work and earn some income, working on something she thought was just for men. She had spent her time at the site well.
"Dili ko ganahan anang puro mga kahilayan nalang ang sudlan sa mga tao karon. Sayang ang panahon. Maayo nalang nga ila nalang gamiton ilang oras sa mga butang nga makatabang sa ilang kinabuhi (I don't like it when people spend their time on insignificant and worthless things. It is just a waste of time. It would be much better for people to spend their time well, on something that would improve their lives)," Evangeline said.
Feeling Special and Important
The women workers were even more inspired when Kalahi-CIDSS National Program Manager Benilda Redaja visited Kitcharao to monitor the program implementation. Evangeline and the other volunteers were all ecstatic as Dir. Redaja and members of the Regional Program Management Office, led by Assistant Regional Director Mita Lim, personally conversed with them, even spent time sharing stories with them at the sub-project site.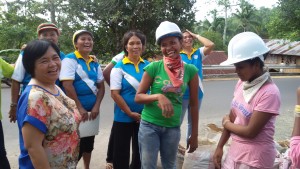 "Mao pa to ang una nga higayon nga nabati nako nga espesyal ko, special akong gibuhat. Sa Kalahi lang ko nakahimamat ug mga dagkong tao, mga taga national pa gyud (it was the first time I felt special, and that what I was doing was special. It is only in Kalahi that I was able to meet special, important people, and they were from the national office)," Evangeline excitedly shared.
This special experience for Evangeline and the women of Purok Zapanta will forever be treasured. They considered that special day as their driving force to continue to matter and bring change for their community.
"Sugod adtong nahatagan mi ug chance nga manarbaho sa Kalahi, daghan na pud nga taga Zapanata ang nagpartisipar na sa Kalahi-CIDSS cycle 2. Gusto pud nila nga makatrabaho ug mag volunteer kay nakita man nila nga dako ang tabang sa proyekto sa katawhan sa Bangayan, labi na sa mga kababayinhan (Ever siince we were given that opportunity to work and earn with Kalahi-CIDSS, the participation rate of women from our community has increased. There are more women who have expressed their willingness to work and volunteer for Kalahi because they saw that the project really helped our community)," Evangeline said. ###(MARKO DAVEY D. REYES/Social Marketing Unit/DSWD Field Office Caraga)