The Municipality of Carrascal is one of the unique municipalities in the province of Surigao del Sur as it is known with remarkable distribution of its lowlands and rolling hills; this makes the people of Carrascal diverse.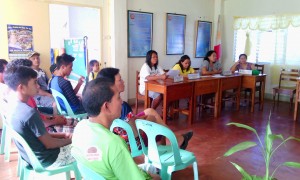 For every barangay, a unique, distinctive trait is tagged to its locales. The lowlanders are said to be simple and accommodating. Highlanders are considered diligent, but a bit reserved. And sadly, those people living in barangays in the Poblacion, what lowlanders and highlanders call "mga datu" (rich/well-off), are tagged as lazy, uncooperative residents; only attending to things that appeal to their interests.
"An insulting and ridiculous label," exclaim residents of poblacion barangays, especially those from Brgy. Embarcadero. They say that they are just like anyone else; accommodating just like the lowlanders, and hardworking, just like the highlanders.
In 2014, Carrascal qualified for the Kapit-Bisig Laban sa Kahirapan – Comprehensive and Integrated Delivery of Social Services (Kalahi-CIDSS). During the municipal orientation, it was already clear then that the poblacion barangays, including Brgy. Embarcadero, was trying to prove that what other barangays thought of them was true; attendance was not that impressive.
Kalahi-CIDSS is among the three (3) anti-poverty portfolios of the Department of Social Welfare and Development which utilizes the Community-Driven Development (CDD) approach. The thrust of the program is to give the community the capacity to define the needs of the barangay/community, train them to be capable in thinking of ways on how to solve their problems, and provide capital/resources so that they themselves will work on the solution for their problems.
Search for a Leader
Brgy. Embarcadero was on the 4th month of their Kalahi-CIDSS implementation when their Barangay Sub-Project Management Committee (BSPMC) chairperson resigned from his post due to personal matters. The team had to choose a leader – someone who would be an inspiration to everyone and ensure that the whole community would change their attitude towards the program.
Arlene M. Silva, a simple housewife with three lovely daughters, took up the challenge. She was already part of the implementation serving as member of the Project Implementation Team (PIT). She was highly nominated by the barangay captain and the people of Embarcadero since they consider her as someone who was "well-off", someone who would not necessarily need any payment for her services because her husband works abroad as a seafarer.
At first, Arlene was hesitant. She accepted the position as member of the PIT knowing that her responsibilities were not that complicated. But to serve as BSPMC chair, this was another story.
"Nilaong ako sa akong kaugalingon nga mosugot nalang kay wala lagi mopasalig sa posisyon, labi na nga boluntaryo lamang ug walay honorarium. Gihuna-huna usab nako nga ako wala may problema kay wala naman koy gamay nga bata nga makabug-at sa akong trabaho (I just agreed to accept the position because no one would really like to accept it, especially that it is only volunteerism, no honorarium, whatsoever, for those who will take up the position. But then it was easier for me, since I have no small children who might be a problem when I will work)," Arlene said.
She tried adjusting to her new life as BSPMC chairperson. Before, she would just spend her time relaxing at home. But now, she is everywhere, attending trainings, meetings, and all. On her first 2 weeks as BSPMC chair, she wanted to just leave her work, her obligations, and never again show her face to any Kalahi-CIDSS activity because she missed being comfortable.
But one thing kept her going – her community.
"Sayang ang grant sa komunidad ug walay magdala niini. Usahay ra ang proyekto nga sama niini, walay gasto ang barangay ug katawhan. Ug madayon kini nga proyekto, dako kaayong tabang ni sa among komunidad (It would be a waste if no one would lead the implementation of the project. It is not every day that we have a project free of charge. If the project goes through and gets to be completed, it will be of great help to the community)," she said.
Another thing that strengthened her decision to take on the position was her husband's support. She said that he was very supportive on her decision, saying it would make him proud that his wife is doing something for their community.
Trials Along the Way
Arlene's strong leadership paved the way for Barangay Embarcadero to catch-up lost time when they had to find another BSPMC chair. Her active participation to the different activities encouraged the other volunteers to be as active as her. But there were those who began to lose interest as the project implementation progressed. She said maybe because there was no honorarium.
But Arlene kept on going. She would shell out some cash for those volunteers who had no money to spend for their fare going to meetings and trainings.
"Isip chairperson sa BSPMC, kinahanglan nga aktibo akong partisipasyon sa implimentasyon. Gamay nga butang lang kanang mogasto ko gamay para lang masiguro nga motunga akong mga kauban. Kung dili ko molihok, walay mosunod nako (As BSPMC chairperson, there is a need for me to be active in participating in the implementation. Shelling out my own money to ensure that other volunteers would be able to attend the activities is just a small matter. If I will not work hard, no one will follow my lead)," she said.
Completed Drainage Canal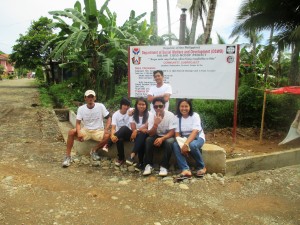 Arlene's hands-on style of leadership ensured the completion of their drainage canal sub-project. She led her community and eventually became an inspiration. She said that it was always her community that kept her going. The recurring flooding in their community had to be controlled. She knew it was up to them to solve their problems.
"Gikapoy na mi sa sige ug baha sa amo. Luoy among mga bata nga moskwela, magsige ug kahugaw. Ang among nakab-ot karon, lami kayo sa paminaw kay kami mismo mga taga Embarcadero ang naghago aron makab-ot namo ni n,ga proyekto. Walay maski unsa nga kantidad sa honorarium maka-labaw niini (We are fed up having constant problems with flooding in our barangay. We pity the school children who always get dirty going to school. What we have achieved as a community is much more than any honorarium or payment for our services)," Arlene said.
The people of Embarcadero just showed their critics that they are capable of coming together to face their problems in the community. What was once a community dubbed as lazy and uncooperative just showed the rest of Carrascal that they too, like all the other communities in the municipality, have what it takes to rise from diversity, and unite to stand for their own good. ###(MARKO DAVEY D. REYES/Social Marketing Unit/DSWD Field Office Caraga)