It is a cold Tuesday morning as roosters served as alarm clocks to the people of San Isidro, Las Nieves, Agusan del Norte. It had rained the night before, which sets up an atmosphere of sluggishness early in the morning.
But there is some kind of activity right around the multi-purpose hall. A handful of people are arranging decorations and chairs in preparation for an assembly. In the group, a very active gentleman leads them in finishing the work at hand.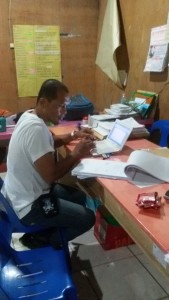 Barangay Chairman Domingo Mulig tries to beat the clock in preparation for their Barangay Participatory Situational Analysis (BPSA) activity for the Kapit-Bisig Laban sa Kahirapan – Comprehensive and Integrated Delivery of Social Services (Kalahi-CIDSS).
"Gahapon pa namo nahuman ang pag-arrange diri sa venue, apan nag ulan ug kusog kagabii. Nahadlok mi nga madaot ang among gitrabaho mao amo nalang sa gihipos. Karon, amo napud ibalik ug butang, pero kinahanglan mahuman namo before 8:00 AM kay aduna pa mi BPSA (We finished decorating the venue yesterday, but it rained heavily last night, that is why we undid the decorations fearing it would be destroyed because of the bad weather. Now, we have to redecorate everything, and we have to complete it before 8:00 AM for the BPSA), Chairman Mulig said.
The BPSA is among the community activities of Kalahi-CIDSS, an anti-poverty program of the Department of Social Welfare and Development that utilizes Community-Driven Development (CDD), geared at providing communities the opportunity to decide for themselves appropriate measures to solve their most dire needs, giving them direct decision making and implementation of the community's proposed and approved sub-projects.
"Importante ang BPSA kay pinaagi ani nga activity, magiyahan ang katawhan sa among barangay pag-ila sa mga basic nga panginahanglanon aron mapakunhod ang problema sa kaprobrehon, mao nga grabe nalang among pagpreparar ani nga activity (The BPSA activity is very important because through it, the people will be guided on determining the basic needs to solve the problems of poverty, this is why we are very eager in preparing for its conduct)," Mulig said.
Chairman Mulig has all the support for Kalahi-CIDSS, and believes that it will be very helpful to the people of San Isidro because he was once an active worker for the program, he served as Municipal Community Facilitator for the Makamasang Tugon (MT), a LGU – led implementation of Kalahi-CIDSS.
"Isa ako sa mga lumilihok sa programa niadtong 2008. Nakita ko ang kanindot sa programa mao kayod gayud ako aron makatabang sa mga barangay nga akong gi handle. Tuod man, sa kakugi nako, nakita sa mga katawhan nga anaa koy kapasidad mahimong usa ka masaligan nga lider. Mao kadto ang rason nga ang akong mga kaila mipugos kanako pagdagan as barangay chairman, ug salamat sa Diyos nga nakadaog ko (I was part of the workers of MT in 2008 here in Las Nieves. I saw how effective Kalahi-CIDSS was, that is why I worked hard so that I would be able to help the barangays I was assigned to. A lot of people appreciated my determination and hard work, and they convinced me to run as barangay chairman because I possessed the characters of a good leader. Thank God I was blessed and won the seat)," Mulig said.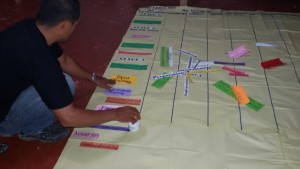 He is currently on his second term. In the years that he has served as barangay chairman, Chairman Mulig has always sustained the essence of Kalahi-CIDSS in his service, making sure that the community is consulted in any endeavor of the barangay LGU, and ensured transparency in BLGU projects.
"Hantod ako ang chairman sa San Isidro, ako makasiguro nga inklusibo ang akong liderato. Akong gi-pattern akong mga programa sa guidelines sa Kalahi-CIDSS. Kung gusto ang usa ka public servant ug epektibo nga pamaagi sa pagpa-abot sa serbisyo sa katawhan, i- pattern gayud siya sa CDD kay mao na siya ang genuine nga programa ug serbisyo (Until I will be chairman of San Isidro, I can ensure that my leadership will be inclusive. I patterned my programs and services in the guidelines of Kalahi-CIDSS. If a public servant wants an effective way of extending service to the people, it should be patterned through CDD because it is the only genuine form of program and service)," Mulig said.
Kalahi-CIDSS workers have no problems implementing the program in San Isidro. They have found themselves champions who uphold the program's thrusts and vision.
The people of Las Nieves will have their voices heard, and that is because their local government understands the important of their voices, their opinions in building a resilient and empowered community.
Through Kalahi-CIDSS and its champions, communities will now be ensured of an inclusive progress and sustainable development.
The story of Chairman Mulig and the people of San Isidro hopefully would inspire LGU in adopting CDD in their leadership, in their programs. In no time, we will be able to see more barangays who would stand up for themselves, whose voices are the pillars of change in their communities. ###(MARKO DAVEY D. REYES/Social Marketing Unit/DSWD Field Office Caraga)