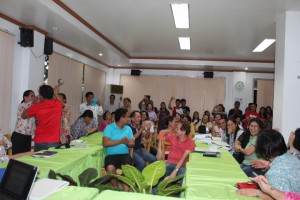 Butuan City– The Department of Social Welfare and Development (DSWD)-Caraga staff are now in the spirit of celebration as the regional office hurdled the last stage for the ISO 9001:2008 certification which is the second stage of external audit conducted by the Anglo Japanese American (AJA) Registrars on December 10-12, 2015.
Auditors from the AJA namely Kevin Castillo and Alrealou Castillo announced during the closing meeting on December 12, 2015 the decision to recommend the FO for ISO 9001:2008 certification.
"And the verdict is congratulations," said Castillo.
The decision was raised after the said auditors conducted a three-day audit to the different services provided by the FO through the programs, units, and sections.
Undersecretary Angelita Y. Gregorio-Medel, who graced the closing meeting, worded her congratulations to the workforce of DSWD-Caraga for passing the second stage audit.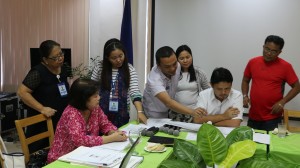 "I am confident that FO Caraga will make it; you are such a good team," said Medel.
Also present during the meeting is Director Maris Maristela of the Standards Bureau-Central Office, Assistant Regional Director for Operations Mita G. Lim,  Quality Management Representative and Assistant Regional Director for Administration Nerisa T. Murih, and GASSD Chief Mary Ann M. Manla.
The said meeting was also graced by the members of the Regional Management Development Committee (RMDC) and some personnel of DSWD-Caraga.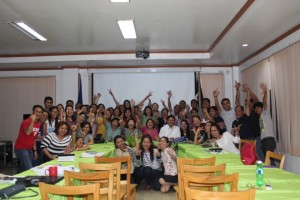 Regional Director Minda B. Brigoli also expressed her warm congratulations and gratitude to the workers of the FO.
"Our journey for the ISO started last February and we have come to this moment where we finally see the outcome of what we went through the whole year," Brigoli shared.
"The journey wasn't that easy, but everyone is moving forward and fast because we claimed as early as February that we will be ISO certified before the year ends," she added.
"I am very happy for my team. The certification is our concrete proof of how we work in the FO." Brigoli commented.
"This achievement is history. We are the first Field Office of DSWD among the 17 regions to be ISO certified," she further said.
ISO 9001 is internationally recognised as providing a framework for a quality management system that can be easily interpreted for all areas of industry and commerce. It provides a framework for monitoring and measuring process performance and operations ensuring increased efficiency and improved customer satisfaction.
The ISO 9001 certification provides the organisations and existing customers with confidence that the agency will be able to provide a consistent and improving quality product or service.
AJA Registrars is accredited for a large in a range of industrial and commercial sectors and operates throughout the globe, ensuring that expertise to fully understand operations and customer needs.
The DSWD-Caraga Quality is embodied in the tag line "Sa Kalidad nga Serbisyo, Kalidad nga Kinabuhi Sigurado".###(Social Marketing Unit/DSWD Field Office Caraga)