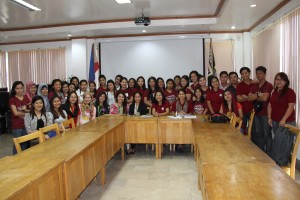 Butuan City – A total of 30 Community Development (CD) students from the Mindanao State University – Main (Marawi) will be exposed to Community-Driven Development (CDD) implementation in communities under the  Kapit-Bisig Laban sa Kahirapan – Comprehensive and Integrated Delivery of Social Services (Kalahi-CIDSS) program here in Caraga.
The Department of Social Welfare and Development (DSWD) Caraga welcomed the students, together with their school officials and clinical instructors who will be having their five month – long practicum here in the region.
Assistant Regional Director for Operations Mita G. Lim expressed delight especially that DSWD Caraga has been chosen to be the venue for the practicum.
"DSWD Caraga feels proud that MSU –Marawi, specifically the CD Department, decided to have their practicum here in the region, even though there are nearer regions in Lanao del Sur where they can have their practicum," Lim said.
Marian Myrtle G. Onod, CD Department chairperson  expressed her gratitude to the management for accepting their request to have their practicum in the region.
"We have received a lot of positive feedbacks, especially from our CD graduates, about the performance of DSWD Caraga in the implementation of Kalahi-CIDSS (NCDDP). We have checked the track record of the office in their implementation of CDD, and sure enough, the information we have received has been very positive," Onod said.
The students will be deployed to the different municipalities in the region, where they will be immersed to barangays/communities with Kalahi-CIDSS implementation. Students will be mentored by Kalahi-CIDSS field workers assigned in implementing municipalities, and will be overseen by the Regional Program Management Office (RPMO) of Kalahi-CIDSS Caraga.
Onod also explained that DSWD Caraga was highly endorsed, even by their College Dean because of the performance of Kalahi-CIDSS Caraga, as per record from the National Program Management Office. She also added that MSU-Marawi is trying to improve their CD curriculum, and pattern it closer to Kalahi-CIDSS, deviating from the curriculum designed after the Department of Interior and Local Governance.
"We need to adjust our curriculum and pattern it with Kalahi-CIDSS since it is now the lead CDD program of the government with the emergence of the NCDDP," Onod said.
Kalahi-CIDSS is one of the lead anti-poverty programs of the Philippine Government being implemented by DSWD in the various municipalities in Caraga. ###(MARKO DAVEY D. REYES/Social Marketing Unit/DSWD Field Office Caraga)