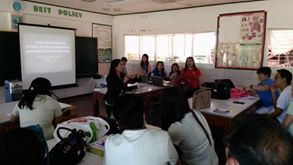 Surigao del Sur- The Provincial Operations Office (POO) of Pantawid Pamilyang Pilipino Program in the province of Surigao del Sur through the Municipal Operations Office (MOO) of the Municipality of Cagwait spearheaded the first consultative workshop in the province for year 2016 with partners from the Department of Education (DepEd)-District Office of Cagwait in Jose San Victores Senior National High School on February 17, 2016.
The said activity aims to deliberate issues and concerns in relation to the program implementation in the locality, and to provide immediate resolutions to the concerns presented.
The DepEd, through the Cagwait Elementary Education District head Dr. Marilyn V. Quinto, with 34 principals, school heads, and Pantawid Pamilya coordinators attended the event and discussed pressing matters on the program implementation.
During the workshop, MOO representatives validated eligible children without school facilities and facilitated to lay down further interventions.
The Local Government Unit (LGU) of Cagwait extended a counterpart in the activity through provision of food (meal and snack) to all participants. LGU's support was made possible through the active facilitation of the Municipal Social Welfare and Development Officer (MSWDO) Anecita Selda.
Pantawid Pamilyang Pilipino Program, also known as Pantawid Pamilya and formerly Ahon Pamilyang Pilipino, is a conditional cash transfer (CCT) program of the Philippine government under the Department of Social Welfare and Development (DSWD). It aims to eradicate extreme poverty in the Philippines by investing in health and education particularly in ages 0–18. It is patterned on programs in other developing countries like Brazil (Bolsa Familia) and Mexico (Opurtunidades)###