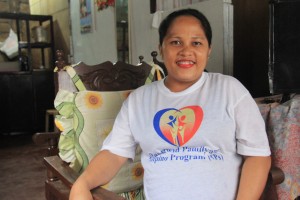 "No one is going to hand me success; I must go out and get it myself. That's why I'm here. To dominate. To conquer. Both the world, and myself." – Anonymous
The life of Charina L. Castillote, a Pantawid Pamilya parent-leader from Barangay Wadas, Municipality of Dinagat, Province of Dinagat Islands, is the substantive example of determination to reach success.
Charina became a program partner-beneficiary in 2008. As she narrated, her life before Pantawid Pamilya came was hopeless. Renato, her husband is a fisherman. Having three (3) children namely, Clark Michael John, Cleanna, and Clare Jane, to feed and send to school was not easy for the couple.
Their family used to dwell in a small house made of woods and light materials. Determined to have a quality life for her children, Charina applied for the position Administrative Aide VI in the Department of Education District Office in Dinagat. Having a Diploma in Fishery Technology, she was hired as a regular employee earning Php12,921.
Being an active parent leader engaged her to new opportunities. Since the priority program participants of the Sustainable Livelihood Program (SLP) are Pantawid Pamilya partner-beneficiaries, Charina was able to join the program's SEA-K as president. Her group was provided with a no-interest loan from SLP, and they utilized the money to put up a sari-sari store.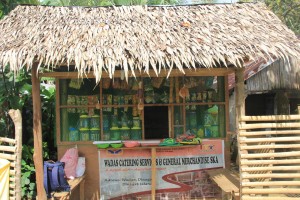 Passionate and dedicated, she used her personal money and bought piglets and put up her own sari-sari store. Other than being active to SLP, Charina also volunteered for the Kapit Bisig Laban sa Kahirapan-Comprehensive and Integrated Delivery of Social Services (Kalahi-CIDSS) program. Her kindness and motivation has been her tool in working gracefully with co-volunteers.
In the recently conducted Social Welfare and Development Indicator (SWDI), Charina's family was assessed self-sufficient.
"I am so grateful to the Pantawid Pamilya for helping me discover my potential as a leader to my co-partner-beneficiaries. I achieved many things through the oppurtunities provided me by DSWD's programs. With determination and my family as inspiration, change can happen," said Charina.
Pantawid Pamilyang Pilipino Program, also known as Pantawid Pamilya and formerly Ahon Pamilyang Pilipino, is a conditional cash transfer (CCT) program of the Philippine government under the Department of Social Welfare and Development (DSWD). It aims to eradicate extreme poverty in the Philippines by investing in health and education particularly in ages 0–18. It is patterned on programs in other developing countries like Brazil (Bolsa Familia) and Mexico (Opurtunidades)###