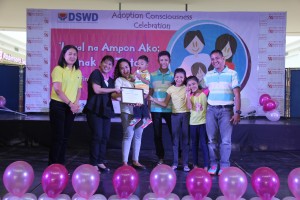 Butuan City- As the lead agency for the National Adoption Consciousness celebration every February, the Department of Social Welfare and Development (DSWD)-Caraga conducted different activities this month in relation to intensifying the advocacy efforts on legal adoption.
A kick-off program was facilitated on February 15, 2016 at Robinsons Mall here and was attended by the members of the Regional Child Welfare Specialist Group (RCWSG), Prospective Adoptive Parents, selected Local Social Welfare and Development Offices (LSWDOs), media partners, residents and staff of Home for Girls, and other guests.
Other activities conducted are Launch and Distribution of Adoption Hotline (Feb.15), Family Portrait Contest (Feb.13-15) Installation of Information and Help Desk at Robinsons Mall (Feb.13-14), Poster Making Contest for high school students (Feb.17), Regional Congress for Adoptive and Foster Parents (Feb.18-19), TV/Radio Guestings, Deca5second Film Competition for DSWD employees (Feb 1-15), Regional Adoption Forum (Feb.16-17), and Special Adoption Forum for DepEd Employees (Feb.17).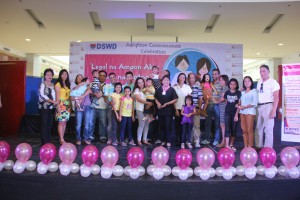 Messages that the DSWD wanted to convey through the conduct of the mentioned activities are the following: (1) There is NO distinction between an adopted and a biological child because they have the same rights; (2) There should be a pro-active approach to the prevention of direct entrustment of children for adoption; and (3) Prospective and adoptive parents are discouraged to go through independent entrustment/placement only to come out later on the legalization of adoption.
The advocacy on legal adoption reminds the public that Simulation, or the tampering of the birth certificate to make it appear that the adoptive parents are the real parents, is a criminal offense and has a corresponding penalty.
Regional Director Minda B. Brigoli, who graced the lined-up events, said that DSWD bolsters its advocacy to assure the public that the Department can deliver one of its mandates which is to look for the welfare of the children.
"Through our RCWSG members, we can ensure that these surrendered, abandoned, and neglected children are placed in suitable families and homes through Adoption which justifiably determines the best welfare and interest of these children," she said.
"With these, we are urging everyone to be strong advocates of Legal Adoption," Brigoli added.
This year's observance of the celebration has the theme "Legal na Ampon Ako, Anak na Totoo (A Child Finds Worth in Legal Adoption)" ###(Social Marketing Unit/DSWD Field Office Caraga)
#IAmLegallyAdopted