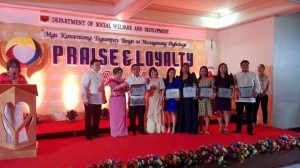 Butuan City- In line with the 65th anniversary celebration of the Department of Social Welfare and Development (DSWD), outstanding employees were given recognition through the PRAISE and Loyalty Awards held at AIM Conference Center, Makati City on January 27, 2016.
For Field Office Caraga, Social Technology and Standards Unit Head Golda V. Pocon was awarded as one of the Outstanding DSWD Workers as Public Servants.
Her numerous significant and notable contributions in the Department were recognized through the accolade.
Also an awardee is the group of the Municipal Action Team (MAT) in Talacogon, Agusan del Sur with members Arnold B. Manalo, Reynalie Jane P. Salvacion, Lovely Mae B. Corpuz, Juniel D. Cabiling, Shiela Rose W. Bauson, Annabelle Labrador, Cristy A. Rocero, Marlon Radaza, Daryl P. Prado, Al Aguillon, Rienalyn Durango, Frietz Gerald Montejo, Princess Leolyn Balacuit, Jerr Seigfred Kalinawan, Engr. Wilben Narbara, Charme Lou S. Tero, and Leo Tristan S Bagcat.
The said team got the second place spot of the Best Functioning Action Team award.
MAT Talacogon was assessed as a functional Convergence team with the obvious presence of the following elements: unified office space with sufficient, appropriate equipment and logistics, presence of an organizational chart, identity/brand formulated which is Mahigugmaong Talacogon, own Vision, Mission, and Goals anchored on the VMG of the Department, regular conduct of monthly MAT and Municipal Convergence Action Committee meetings, and Scorecard and Action Plans.
DSWD Secretary Corazon Juliano-Soliman and Undersecretary Camilo G. Gudmalin personally handed the plaques of recognition and cash prizes to the awardees who were accompanied by DSWD-Caraga Regional Director Minda B. Brigoli.
Brigoli also received a Loyalty Award for her 40 years in public service.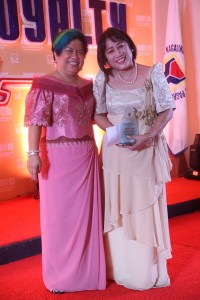 The said staff and official will again be recognized in the regional celebration of Field Office Caraga on February 19, 2016 at Almont Hotel's Inland Resort, Butuan City.
The giving of awards under the PRAISE (Program for Rewards, Awards and Incentives for Service Excellence) awards is an annual activity of the DSWD to encourage and recognize exemplary performance of its employees nationwide.
This year's 65th Anniversary Celebration of DSWD bears the theme, "DSWD@65: Mga Kwento ng Tagumpay Tungo sa Masaganang Pagbabago".