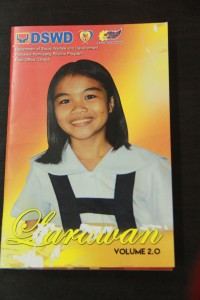 Butuan City- Larawan Volume 2.0 was officially launched on February 19, 2016 during the regional celebration of the 65TH Anniversary of DSWD held at Almont Hotel's Inland Resort in the city.
Larawan is the official compendium of Pantawid Pamilyang Pilipino Program that features the positive change happening in the lives of our partner-beneficiaries.
The compendium was officially launched by Regional Director Minda B. Brigoli with Undersecretary for Operations and Programs Group Camilo Gudmalin, together with Assistant Regional Director for Administration Nerisa Murih and chiefs of division, Mary Ann Manla of GASSD, and Angelita Amista of PSU-IDD.
Larawan captures and showcases the stories of success of the Pantawid Pamilya beneficiaries across the Region.
"Since the outset of the program in Caraga, countless stories of successes on the lives of our partner-beneficiaries have been the talk and the highlight in the rising positive responses from audiences, the lingo on how effective is the program in alleviating the lives of the poor families in the Region. Driven by the convergence strategy, we push to sustain the improvement and positive change of our partners at the ground," Brigoli said.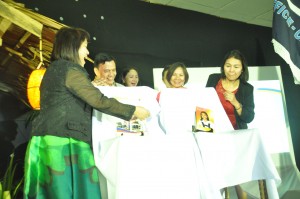 "Along with the celebration of these successes, the said compendium features communal stories of Pantawid Pamilya partner-beneficiaries and the change "pagbabago" that happened to their lives through the intervention of the program, and with the various internal and external partners. Larawan conveys inspiring stories that will surely bring its readers to the innermost of their identity, will unearth the silhouette of hope, and transform every reader to a person that could see glow in the midst of dusk," Brigoli closed.
Copies of the compendium were distributed to partner Local Government Units (LGUs), agencies, and DSWD field offices around the country.
Pantawid Pamilyang Pilipino Program, also known as Pantawid Pamilya and formerly Ahon Pamilyang Pilipino, is a conditional cash transfer (CCT) program of the Philippine government under the Department of Social Welfare and Development (DSWD). It aims to eradicate extreme poverty in the Philippines by investing in health and education particularly in ages 0–18. It is patterned on programs in other developing countries like Brazil (Bolsa Familia) and Mexico (Opurtunidades)###