Butuan City– Ninety-two (92) Pantawid Pamilya partner-beneficiaries are now employed at the various programs and projects of the Department of Social Welfare and Development (DSWD) Field Office Caraga.
The Regional Program Management Office of the Pantawid Pamilyang Pilipino Program reported that most of the beneficiaries are hired as Social Welfare Assistants (SWA) for Pantawid Pamilya, Project Development Officers (PDO) for the Sustainable Livelihood Program (SLP), and others are hired as enumerators for the National Household Targeting System for Poverty Alleviation (NHTS-PR) or commonly known as Listahanan during the second round of family assessment.
"This is the kind of empowerment that we wanted our beneficiaries to know. That they, like the many others are adept and have the capacities to improve their lives through self-help. Learning that their capacities are valiant could be one of the good things that may happen to them because this could also mean a good start for them to explore other opportunities that may come along their ways," DSWD Caraga Regional Director Minda B. Brigoli said.
"This volume is good enough. But I will opt to believe that there are still more Pantawid Pamilya partner-beneficiaries in the ground whose stories are not long enough will put a point in the limelight. Considering that we have schooled a total of 131 grantees for the Students Grants in Aid Program for Poverty Alleviation (SGPPA), and 2,011 grantees for the expanded-SGPPA in partnership with the Commission on Higher Education (CHED), we could have more teachers and engineers in the future whose humble beginnings are through the Pantawid Pamilya," Brigoli added.
"As per reports from the National Program Management Office of the Pantawid Pamilya, study show that the Program has been able to increase the income of the partner-beneficiaries and to move them closer to the minimum income level needed to transcend poverty. The report also said that per peso cash grant, the poverty gap is reduced by 61 centavos. To effectively help the poor close the poverty gap, investments should continue to be made in other complementary programs build human capital and generate jobs," she cited.
The jobs of the 92 employed Pantawid Pamilya partner-beneficiaries were categorized to the following: Social Welfare Assistant, Project Development Officers, Municipal Link Officers, Community Empowerment Facilitators, Area Supervisors, Social Welfare Officers, Local Government Unit Link, Validators, Enumerators, Administrative Assistance, Case Workers, Financial Analysts, Encoders, and some were laborers in Kalahi-CIDSS.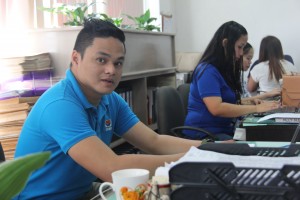 "I am one of the lucky 92 partner-beneficiaries of Pantawid Pamilya who are now working in DSWD Field Office Caraga. This opportunity helps me to aid the needs of my family and to encourage other beneficiaries that with trust, diligence, and harwork, good things can happen," said Novel S. Dela Pena, a Pantawid Pamilya beneficiaries presently working as CVS Focal in Dinagat Islands.
Pantawid Pamilyang Pilipino Program also known as Pantawid Pamilya and formerly Ahon Pamilyang Pilipino, is a conditional cash transfer (CCT) program of the Philippine government under the Department of Social Welfare and Development. It aims to eradicate extreme poverty in the Philippines by investing in health and education particularly in ages 0–18. It is patterned on programs in other developing countries like Brazil(Bolsa Familia) and Mexico (Opurtonidades)###