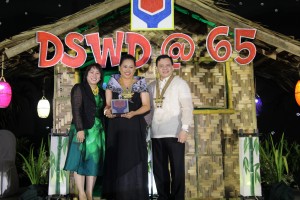 Butuan City-In the regional celebration of the 65th anniversary of the Department of Social Welfare and Development (DSWD) which happened on February 19, 2016 at Almont Hotel's Inland Resort, this city, Field Office Caraga highlighted the significant contributions of its partners and stakeholders in the implementation of various social protection programs and services.
Regional Director Minda B. Brigoli, together with Undersecretary Camilo G. Gudmalin, personally handed the plaques and certificates of recognitions to the honorees of the Department in Caraga.
Awards that were given are categorized into four (4)- PANATA Ko sa Bayan, PRESTIGE, bayanI Ka, and Child-Friendly Local Government Units (LGUs).
PaNata Ko (Pagkilala sa Natatanging Kontribusyon) sa Bayan Awards are given to individuals, groups, and organizations whose "panata" or vow is to share their successes, time, and selves in providing for a better opportunity for the disadvantaged sectors.  This award is categorized into four (4) as well, namely: Salamat Po, Gawad sa Paglilingkod sa Sambayanan (GAPAS), Gawad Ulat, and Gawad Listahanan.
The following are the list of winners for the said award:
Salamat Po
Best Non- Government Organization – Gesu Eucaristico Children's Incorporated
Best Volunteer – Jimmy Dejolde
Valuable Support to MCCT Pay-out – New Tribe Missionary (Mr. Albert Castelijn)
Support to Home for Girls – Philippine National Police; Dental Health Service 13
Support to DSWD Regional Activities – Robinsons Place, Butuan City
Support to Disaster Operations – Department of Public Works and Highways (DPWH)
Support to SLP Implementation – Mindanao R & D Consultants, Incorporated
GAPAS Award
Best Pag-asa Youth Association – PYAP Cabadbaran City
Best PWD Organization – San Miguel Association of Persons with Disability
Best Federation of Senior Citizens Association in the Philippines – FSCAP Surigao City
Model Sustainable Livelihood Association – Gigaquit, Surigao del Norte SLPA Federation
Model LGU Implementing DSWD Programs – LGU Bayabas, Surigao del Sur
Model LGU Implementing Kalahi-CIDSS – LGU Veruela, Agusan del Sur
Model LGU Implementing Supplementary Feeding Program – LGU Taganaan, Surigao Sur
Gawad Ulat
Most Supportive TV Station – TV Patrol ABS-CBN Caraga
Most Supportive National Media – Manila Bulletin
Most Supportive Local Print Media – Mindanao Centro Daily
Most Supportive Private Radio Station – Bombo Radyo
Most Supportive Radio Station – Radyo Trumpeta
Most Supportive Public Radio Station – Radyo ng Bayan
Most Supportive Online Media – Philippine Information Agency (PIA)
Gawad Listahanan –  LGU Bislig City
Another award is the PRESTIGE or Promoting Resurgence and Excellence of Social Welfare Officers as Transformation Agents for Inclusive Growth and People Empowerment. This award is given to the most functional Local Social Welfare and Development Offices. This is considered a Best Practice of Caraga designed to bolster existing competencies and increase the morale of LSWD Officers along full functionality. This award has three (3) categories: Bronze, Silver, and Gold. The following are the awardees:
PRESTIGE- City (Silver)
PRESTIGE- Province (Bronze)
LGU Province of Dinagat Islands
PRESTIGE- City (Bronze)
PRESTIGE- Municipality (Bronze)
LGU Jabonga, Agusan del Norte
LGU Las Nieves, Agusan del Norte
LGU Buenavista, Agusan del Norte
LGU Tubay, Agusan del Norte
LGU Magallanes, Agusan del Norte
LGU San Francisco, Agusan del Sur
LGU Marihatag, Surigao del Sur
LGU Tagbina, Surigao del Sur
The next award is the Child-Friendly Municipalities and Cities Award. This is established through Executive Order No.184 issued on December 13, 1999 and is conferred to deserving LGUs in recognition of their vital roles in sustained promotion of children's rights as well as in ensuring Child-Friendly Governance.
The following are the awardees per province:
Agusan del Norte
Cabadbaran City
Magallanes
Tubay
Las Nieves
Remedios T. Romualdez
Nasipit
Jabonga
Santiago
Kitcharao
Butuan City
Buenavista
Carmen
Agusan del Sur
Veruela
Talacogon
Bayugan City
Prosperidad
Santa Josefa
Esperanza
San Francisco
Rosario
Province of Dinagat Islands
Cagdianao
San Jose
Basilisa (Rizal)
Dinagat
Loreto
Surigao del Norte
Burgos
San Isidro
Socorro
Bacuag
Tubod
Malimono
Santa Monica
Claver
Surigao City
Surigao del Sur
Lingig
Barobo
Bislig City
Cagwait
San Miguel
Cantilan
Carrascal
Tagbina
Carmen
Marihatag
Cortes
Lianga
The LGU of Bayabas, Surigao del Sur had a special award on this since the LGU is one on the shortlisted nominees at the National level.
Another accolade is the bayanI Ka. This award is given to partner LGUs and community volunteers to recognize their support to Kalahi-CIDSS Implementation. The awardees are considered champions and advocates of the Community-Driven Development (CDD) strategy. The following are the modern-day heroes in Caraga:
bayanI Ka
PLGU Local Chief Executive – Surigao del Sur (Hon. Johnny T. Pimentel)
MLGU Local Chief Executive – Hinatuan, Surigao del Sur (Hon. Candelario J. Viola Jr.)
BLGU Local Chief Executive –San Isidro, Las Nieves, Agusan Norte (Hon. Domingo S. Mulig)
Best BSPMC Chair – Mr. Samuel Ampahan (Brgy. Kinamaybay, Esperanza, Agusan Sur)
Best Community Volunteer – Ms. Juvy Monteclaro (Brgy. Bunga, Jabonga, Agusan Norte)
Best Youth Volunteer – Ms. Christ Janine D. Navarro (Brgy.Caigangan, Veruala Agusan Sur)
Best Senior Citizen Volunteer – Mr. Lorenzo Lao (Brgy.Amoslog, Placer, Surigao Norte)
Best PWD Volunteer – Ms. Marife Lerio (Brgy.Amoslog, Placer, Surigao Norte)
Best IP Volunteer – Ms. Vivian Plaza (Brgy. Mabahin, Cortes, Surigao del Sur)
Best MIAC – MLGU Las Nieves, Agusan del Norte
Best CSO Partner – Sibog Katawhan Alang sa Paglambo (SIKAP)
Best Municipal Coordinating Team – MCT Pilar, Surigao del Norte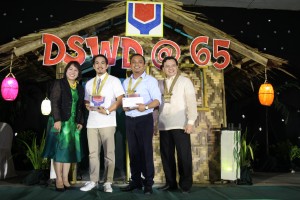 Aside from awards given to external partners, the Field Office also recognized, through the Program on Awards and Incentives for Service Excellence (PRAISE), its outstanding workers. This award is given to DSWD employees or workers to encourage, recognize, and reward for their suggestions, innovative ideas, inventions, discoveries, superior accomplishments, heroic deeds, exemplary behaviour, extraordinary acts or services in the public interest and other personal efforts which contribute to the efficiency, economy, and improvement in government operations, which lead to DSWD productivity. The award is divided into two (2) categories: Individual and Group.
For the Individual category, the nominees are SLP Coordinator Roy R. Serdena and Administrative Officer V/Kalahi-CIDSS Regional Coordinator Ramil M. Taculod. The regional winner, and one of the national winners, is Standards and Social Technology Unit head Golda V. Pocon.
For the Group category, the Best Functioning Convergence Action Teams were recognized. The following are the nominees:
MAT Gigaquit, Surigao del Norte
Elizabeth D. Cabug-Os
Darmina M. Jakaira
Giemar Lucino
Archerd Oraliza
Regiel Balagar
Homer Deloso
Ii Joni Desi G. Lucar Ii
Jennifer N. Ayuban
Nieva Frenzyl M. Mondalo
Mercy Nakila
Rolendo Dosol
MAT Tagbina, Surigao del Sur
Jireh Niel A. Felizarta
Emelyn O. Oliveros
Karin Jane C. Balayo
Irene C. Coralat
Mary Jane Gavino
Marilou Tan
Jocyglin Decamutan
Alfredo Havana
Estella Regaspi
The Best Functioning Team, and second place at the national level, is the team of Talacogon, Agusan del Sur with members:
Arnold B. Manalo
Reynalie Jane P. Salvacion
Lovely Mae B. Corpuz
Juniel D. Cabiling
Shiela Rose W. Bauson
Annabelle Labrador
Cristy A. Rocero
Marlon Radaza
Daryl P. Prado
Al Aguillon
Rienalyn Durango
Frietz Gerald Montejo
Princess Leolyn Balacuit
Jerr Seigfred Kalinawan
Wilben Narbara
Charme Lou S. Tero
Leo Tristan S Bagcat
Another award for the internal staff is the Loyalty Award – an incentive granted to DSWD employees who have served continuously and satisfactorily the Department for at least ten (10) years. Social Welfare Officer Vilma U. Bare and Administrative Assistant Margie Rose Gundaya were recipients to this award for serving 20 and 25 years, respectively.
In her message, Regional Director Minda B. Brigoli expressed appreciation to the awardees and attendees for their commitment in making sustainable development happen.
"These Awards symbolize our sincere gratefulness to all of you. Your efforts are deeply appreciated. The 65 years of DSWD will not be this meaningful without your support and/or collaboration." said Brigoli, addressing the awardees.
Furthermore, Undersecretary Camilo G. Gudmalin, the keynote speaker of the event, encouraged all the awardees through voicing his appreciation and congratulations. His message emphasized the essence of the Convergence strategy and its high importance in excellently delivering the programs and services of DSWD. He encouraged the present partners and stakeholders to continue their support.
Gudmalin also commended Brigoli for her leadership and cited the various awards that were reaped by DSWD-Caraga in the previous year, highlighting the ISO certification.
"I share with your pride of being the FIRST Field Office of DSWD to be ISO 9001: 2008 certified," he said.
Other highlights of the half-day event are the response messages of Mayor Clarita Limbaro of Bayabas, Surigao del Sur and CSWDO Letecia Yu of Bislig City and the launching of Larawan 2.0 compendium and Caraga Frontline 2nd Semester CY 2015.
DSWD 65th anniversary celebration bears the theme, "DSWD@65: Mga Kwentong Tagumpay Tungo sa Masaganang Pagbabago". ###(Social Marketing Unit/DSWD Field Office Caraga)