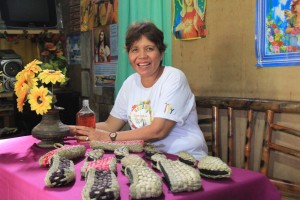 There have been lots of rugs to riches stories told. However, the story of Amelita is just one of a kind; hers is a colourful story of love, and how she fought for it.
In 1979, Perquera Family moved to San Jose, Province of Dinagat Islands for good. Amelita is married to Romeo, a native from the Visayas. The couple is blessed with four (4) children- Jomar, Penkie, Lyndon, and Benjamer.
Living in an island, Romeo does fishing for a living. He cuts across the wide blue Dinagat inlet to provide food for his family.
Amelita helps him. Blessed with skills on handicrafts, she makes bags, wallets, bracelets, and other souvenir items. During peak seasons, when members of the Philippine Benevolent Missionaries Association (PBMA) gather, she accepts orders from the organization's official.
Hardships and Realizations
 Despite all efforts, the couple still see a problem in augmenting the needs of their children. Jomar, their eldest was forced to help them. This was the reason  he did not finish high school.
"Lisud kayo pamalandungun ang mga kaagi nga nanglabay. Panagsa, matulog mi nga walay kan-anay (It's so hard to think how we have gone through with the past. Sometimes, we go to sleep even without food in the stomach)," Amelita shares.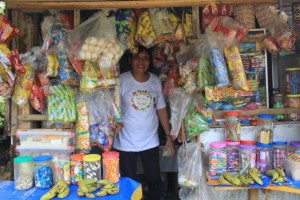 With the difficulty, she regrets not attending classes when she was still studying.
"Lisud diay gyud kaayo ning wala tay gi-eskwelahan. Kanang dili ta kabasa, dili ta kasulat, murag imong mabati nga ang oportunidad, sa uban lang mahatag, ug ikaw wala gyud tawon (It's so hard when we haven't gone to school. If you can't read and write, it feels like opportunities are only given to others)," she adds.
Pesquera Family remains hopeful that they could withstand poverty. Their love for one another inspires them to make the most of the little they have.
"Tungud sa gugma sa akong pamilya mupadayon kami. Uban sa akong bana, mangita mi ug pamaagi aron makahilwas kami sa kalisud (Because of the love of my family, we will continue. With my husband, we will find ways to alleviate our poverty condition)," Amelita quips.
Obvious Changes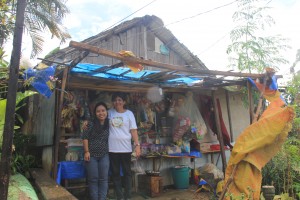 In 2010, Pesquera Family became a recipient of Pantawid Pamilyang Pilipino Program.
It is a conditional cash transfer (CCT) program of the Philippine Government under the Department of Social Welfare and Development (DSWD). It aims to eradicate extreme poverty in the Philippines by investing in health and education of children particularly ages 0-18. It is patterned on programs in other developing countries in Brazil (Bolsa Familia) and Mexico (Opurtunidades).
"Nalipay kaayo ko kay nakita nako nga wala gyud diay mi nakalimtan sa atong gobyerno. Karon nga naa na ang Pantawid Pamilya, wala nay rason nga dili nako mapa-eskwela ang akong mga anak. Ako na gayud nga matagaan ug mapanalipdan ang akong mga anak sa sakit tungud kay gina-monitor man sa maong programa ang health sa akong mga anak (I am so happy that Pantawid Pamilya came and helped us. I have proven that our Government did not forget us. I don't have any reason not to send my children to school. I can now protect my children from sickness because the program monitors their health)," says Amelita.
Her perspective about life now widened. She can now afford sending her children to college. Her daughter Penkie graduated Bachelor of Science in Commerce major in Management at Don Jose College. Her son Lydon is currently studying in the same school. Benjamer, her youngest is now a grade 10 student at Don Ruben Edera Ecleo Sr. Memorial National High School.
The latter attends youth development session (YDS) and was one of the participants of the Gender and Development (GAD) caravan in their province.
Grateful and Inspired
 Amelia is thankful to other government agencies for the interventions her family received. She was part of the enhanced handicraft training of the Department of Trade and Industry (DTI), and training on Philippine Traceability for Revitalized Agricultural Competitiveness Enhancement System. In 2010, she was also elected as member of the barangay council.
Seeing her potential, the Sustainable Livelihood Program (SLP) of DSWD included her in the Product Development Training to fully enhance her skills in handicraft making and help her find a bigger market.
Amelita's products are now displayed in Tindahang Pinoy at Robinsons Place Butuan. The said gallery is owned by a private proprietor whose products are produced by DSWD and DTI Caraga program partner-beneficiaries.
"Ako ang usa lamang sa liboan nga mga benepesyaryo nga nabag-o ang kinabuhi tungud sa programa. Kinahanglan nga mapadayun gyud ang programa aron mas daghan pa nga parehas nako nga makatawid sa kaunlaran. Karon, makaingun na jud ko nga Kaya Ko ang Pagbabago (I am just one of the thousand partner-beneficiaries of the program whose lives have changed because of the intervention of the Pantawid Pamilya. This program should be institutionalized so it could help more Filipino alleviate poverty condition. Now, I can say, Kaya Ko Ang Pagbabago)," she closes.
When love, hard work, dedication, and trust to oneself are there, Amelita's story can also happen to everyone.