Butuan City– "Ikaw, ako, tayo ang pagbabago" is the theme of the Pantawid Pamilya Program Implementation Review (PIR) held last January 21-22, 2016 at Dotties Place here.
Attended by around 375 staff of Pantawid Pamilya, the event delivered its objectives to present the accomplishment of the program for the year 2015, to identify issues and concerns in the implementation, and to create municipal operations office (MOO) and provincial operations office (POO) plan for 2016.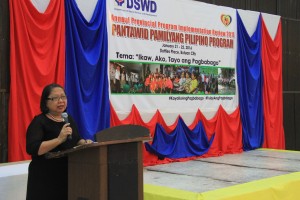 In her message, Assistant Regional Director for Operations Mita G. Lim, duly representing Regional Director Minda B. Brigoli, said that she has high hopes to Pantawid Pamilya personnel in delivering the services to its partner-beneficiaries.
"Our staff in the ground have been working in the dusk of light to deliver the quality service we promised to our partner-beneficiaries. Some of you [Pantawid Pamilya field staff] have crossed islands and hiked miles to conduct monthly Family Development Session (FDS)," Lim said.
"Others walked for days to gather reports and settle irregularities. These scenarios have been your daily life. These somehow have blanketed your personal needs in exchange of making others' lives improved and moved to self-sufficiency," she added.
Lim accompanied by Management Audit Analyst Ramil M. Taculod and Pantawid Pamilya Program Coordinator Crislea D. Celeste, expressed that she expects more quality outputs in the program operation for 2016.
"We have seen an improvement in the lives of our partner-beneficiaries and we cannot afford not to sustain this. For 2016, we have to produce more quality outputs. Let us continue to be transparent to our mission," she closed.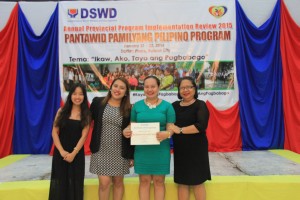 For the timebeing, the Regional Program Management Office (RPMO) is designing the individual performance contract (IPC) of the field staff patterned to the latest demands of time.
Pantawid Pamilyang Pilipino Program, also known as Pantawid Pamilya and formerly Ahon Pamilyang Pilipino, is a conditional cash transfer (CCT) program of the Philippine government under the Department of Social Welfare and Development. It aims to eradicate extreme poverty in the Philippines by investing in health and education particularly in ages 0–18. It is patterned on programs in other developing countries like Brazil (Bolsa Familia) and Mexico (Opurtunidades)###