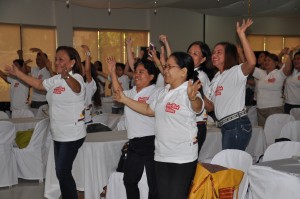 Butuan City- Social Workers of the Department of Social Welfare and Development (DSWD)-Caraga and other agencies/organizations convened on March 15, 2016 at Luciana Convention, this city, to celebrate the World Social Work Day and Month.
The Department strongly supported this year's celebration which bears the theme "Promoting the Dignity and the Worth of Peoples".
The said theme underscores the significant roles of social workers in acting against growing inequalities and the worldwide dynamics that perpetuate poverty and oppression.
Objectives of the observance of the international celebration include advocating public appreciation and recognition of the Social Work profession, facilitating venue for strengthened engagement with Social Workers in other settings, and imbibing the sense of pride among Social Workers in the profession they have chosen.
Members of the Association of DSWD Social Workers Incorporated (ADSWI) and other Social Workers in Caraga actively participated the motorcade and one-day gathering in observance of the celebration.
Golda V. Pocon, regional president of ADSWI and head of the Social Technology/Standards Bureau units, discussed the topic "Role of Social Workers Towards an Undivided Humanity".
"Like millions of others worldwide, the Social Workers of DSWD Field Office Caraga take pride of being part of a profession that acts decisively on its deep understanding of human behavior," Pocon said.
"Social workers are at the forefront of social consequences and social realities," she added.
Angelita B. Amista, chief of the Protective Services Unit and Institutional Development Division, highlighted in her message the significant contributions of the Social Workers in the world.
"Our contribution to the world is very significant as we confront challenging career issues of diverse individuals, families, and communities, and societies and we develop methods and solutions that help these people reach their full potential despite and in spite complex realities," Amista shared.
Regional Director Minda B. Brigoli, also a proud Social Worker, extended her warm greetings to all the practitioners of the profession.
"This World Social Work Day is dedicated to all of those whose work is more than the ordinary for the extra special sectors of the society-our motivation," Brigoli quipped.
The WSWD is an annual celebration every March which aims to influence international, regional, and local policies, government actions and to highlight the value and contributions that social workers make every day throughout the world. ###(Social Marketing Unit/DSWD Field Office Caraga)