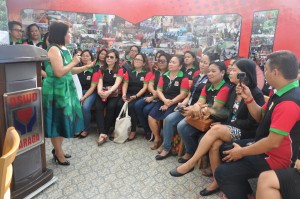 Butuan City- As the Field Office Caraga of the Department of Social Welfare and Development (DSWD) hosted the national training dubbed as Learning Development Intervention on Learning System Design held on March 6-11, 2016 at Almont Hotel's Inland Resort here, participants from the different regional offices of DSWD visited the Regional Learning Commons (RLC).
The activity aims to enhance competencies of the Capacity Building Bureau/Units (CBB/U) personnel and Knowledge Management (KM) focal persons along designing, implementing, and evaluating learning development interventions.
Regional Director Minda B. Brigoli welcomed the participants and said that the training is an opportune time for them to visit the RLC which won as the National Best Regional Learning Resource Center (RLRC) in 2015.
Aside from the learning visit to RLC which happened on March 8, 2016, the participants also witnessed the unveiling of the Best RLC Award.
DSWD-Caraga's RLC is a complementary facility of the DSWD Knowledge Exchange Center (KEC) with a capability of housing information and communications technology (ICT)-based operations and processes to effectively and efficiently carry-out activities and services that will embody the goals and strategies to make DSWD a learning organization. ###(Social Marketing Unit/DSWD Field Office Caraga)