Butuan City– Around 70 Pantawid Pamilya staff across Caraga region attended the Orientation Workshop on the National Action Plan on Women, Peace, and Security held last March 1, 2016 at Goat2geder Hotel and Restaurant, here.
The said workshop serves as the initial activity of the program as part of the Women's month every March. The event aims to integrate the concepts of women, peace and security in the modules of Family Development Session (FDS) which is being conducted monthly in every area in the Region.
Assistant Regional Director for Administration Nerisa T. Murih, who represented Regional Director Minda B. Brigoli, cited in her message the importance of the said workshop to Pantawid Pamilya staff as they serve as front liners of the program in delivering the services to target clienteles.
"Pantawid Pamilya has been implemented in Caraga Region for more than seven (7) years with its goal of breaking the intergenerational cycle of poverty through provision of educational and health grants and other services to poor eligible households. It has 88.9% women partner-beneficiaries as of November 2014 data," said Murih.
Per information on the Resolution 1325 which talks about women, peace and security adopted by the United Nations Security Council, it stresses the importance of women's role in conflict prevention and resolution and highlights the need for women's equal participation in the maintenance and promotion of peace and security.
"The worlds human sex ratio of male to female is 1.01 and in the Philippines at 1.0, and in Caraga Region, 106 males to 100 females. With this statistics, it should be recognised that in areas of conflict prevention, recovery and peace building cannot succeed if half the population is excluded," added Murih.
On a separate note, Undersecretary of the Office of the Presidential Adviser on the Peace Process (OPAPP) Atty. Maria Cleofe Getti C. Sandoval said that conflict prevention would be better if women will take part in the process.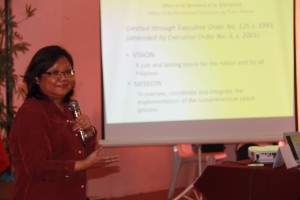 "Conflict prevention, peace agreements, post-conflict reconstruction, and governance are more effective when women are involved and when their needs and priorities are taken into account. These include actions to increase women's participation at all levels of conflict prevention, peace building, and peacekeeping initiatives, the protection of women and girls during armed conflict, and the prevention of gender-based violence," shared Sandoval.
On a similar report, the international women, peace and security have enabled the community to move beyond viewing women as victims of conflict to seeing them as agents of peace and progress.
Selected participants of the workshop were the city/municipal link officers, community facilitators, community workers, social welfare officers (SWO), provincial links especially those with armed conflict areas.
Pantawid Pamilyang Pilipino Program, also known as Pantawid Pamilya and formerly Ahon Pamilyang Pilipino, is a conditional cash transfer (CCT) program of the Philippine government under the Department of Social Welfare and Development (DSWD). It aims to eradicate extreme poverty in the Philippines by investing in health and education particularly in ages 0–18. It is patterned on programs in other developing countries like Brazil (Bolsa Familia) and Mexico (Opurtunidades)###