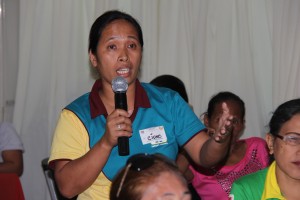 "As a parent leader, I need to become a good role model to my members especially on how I used the grants given to me by the program. This can be proven through experience," said Conception F. Bocal.
Bocal, 38 years old and a mother of five (5) is one of the selected active Pantawid Pamilya parent leaders in the province of Agusan del Norte who gracefully attended the Regional Conditional Cash Transfer Consultation Conference at Goat2Geder Hotel in Butuan City on March 28, 2016.
In the picture, Bocal is relaying her personal experience with the program as an active parent leader in the Municipal of Del Carmen in educating her co-partner-beneficiaries on how to earmark the amount for the health and education of their children and to remind her comrades to continue attending the monthly conducted Family Development Sessions (FDS).