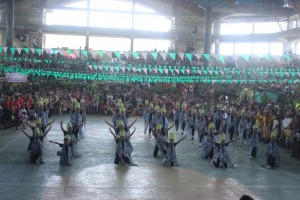 Province of Dinagat Islands- The sixth (6) year anniversary of the Pantawid Pamilyang Pilipino Program operation in the municipality of San Jose in the province of Dinagat Islands was successfully celebrated last February 18-19, 2016 in the Municipal Gymnasium of the town.
In full coordination with the Municipal Convergence Advisory Committee (MCAC), the celebration lasted for two (2) days, having each day filled with fun and frolics such as Funtawid Livelihood Day, Amazing Race, and Dance Competition.
During the livelihood day, Pantawid Pamilya partner-beneficiaries were asked to display their creatively crafted booths made of recycled and indigenous materials. Every booth showcased their unique products per barangay. Winners were given prizes ranging from P500-P2500. In this category, Barangay Don Ruben won first place, Barangay Luna as the second, and Barangay Cuarinta as third.
"This activity symbolises how the program has served its purpose of changing the behaviour of our partner-beneficiaries. Before, most of you [partner-beneficiaries] are afraid to show your qualities; now with the intervention of program, delivered through the monthly Family Development Session (FDS) and your participation in all community related activities, you have discovered something in you that is so wonderful to note. You [parner-beneficiaries] have discovered yourself- your creative self," shared Ma. Vein I. Bisnar, Municipal Link Officer in San Jose.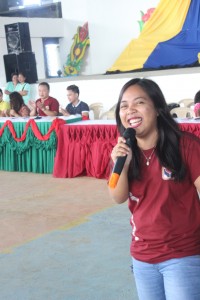 The amazing race competition required every entry to group a family of five, composed of a mother, a father and three (3) children per participating barangay. This competition tried to test not just the unity of a family, but also their cooperation, discipline and team spirit. After the activity, Barangay Jaquez was awarded as the first placer, Barangay Cuarinta as the second, while Barangay San Juan was hailed third.
Line dance competition was considered as the flower activity of the event. Every entry was required to group a member of 30, and they will be judged according to their showmanship and mastery. Barangay Aurelio was awarded first place and got P3,000, Barangay Luna as the second and got P2,000, Barangay Cuarinta as the third and received P1,500. Other entries also received P500 as consolation prizes.
The activity, themed with "Disiplina ug Panaghiusa Lig-Onon aron Makab-ot ang Hayag nga Kaugmaon (Strengthening Discipline and Unity to reach Wonderful Future", was a collaborative effort of members of MCAC, Municipal Action Team (MAT), and Local Government Unit (LGU) of the locality.
Pantawid Pamilyang Pilipino Program, also known as Pantawid Pamilya and formerly Ahon Pamilyang Pilipino, is a conditional cash transfer (CCT) program of the Philippine government under the Department of Social Welfare and Development (DSWD). It aims to eradicate extreme poverty in the Philippines by investing in health and education particularly in ages 0–18. It is patterned on programs in other developing countries like Brazil (Bolsa Familia) and Mexico (Opurtunidades)###