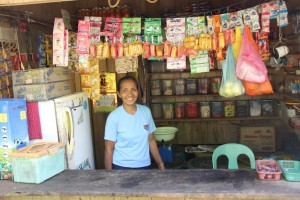 "Outcast. This is how I describe myself during the early days of my membership in the Pantawid Pamilyang Pilipino Program. I've been an outcast to my own community despite my efforts to make my community know how the program has been moving mountains to end the intergenerational cycle of poverty. Because I belong to a community where most of my neighbors are hesitant and opposed to accept government programs and services, I became a pariah because I insisted to enrol my children to school and send them to health centres. All I know is that the program is helping me to give my children a good future," relayed Shirly V. Calipusan.
"Now, because of Pantawid Pamilya, my second son, Jonathan, 18 is enrolled as an academic scholar in Surigao del Sur State University as Civil Engineering student while my daughter Jessie who is fond of inventing techno-materials remains consistent as an honor student in Gata Integrated School (GIS) as grade-eight (8) student. Because I know that what I am doing is good, I remain to become a good pariah to my community, and is hoping that one day, the community will be able to see that the program only dreams the best for my children, to our family, and to my community as a whole," added Shirly.
Calipusan, 53 is an active parent leader of Pantawid Pamilya in Gata, San Agustin, Surigao del Sur. She, her husband and their three (3) children are living in Sitio Hamburger where their community is of supreme authority to direct their way of life. The community follows a certain tradition and is strict in implementing the norms they have in their group. This includes their decision not to accept programs from the government.
Despite Shirly's decision, their family is continually living in the community along with the 118 households cult members.