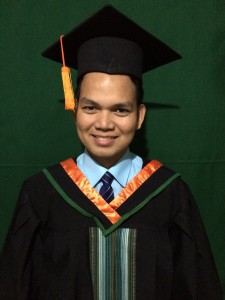 "I dream big. I dream to finish college and now it is just days away. Life is about teaching yourself to be courageous despite everything – good or bad. Being poor does not mean being helpless. Poverty is just a state of mind, and when you overcome it, it turns very brightly," this was the sharing of courageous Philip Donald Cabuga Sanchez.
Clear Vision
Philip, 21, is one of the Expanded Students Grants-in-Aid Program for Poverty Alleviation (ESGPPA) scholars who will be graduating this year with the degree Bachelor of Science in Agricultural Engineering at Caraga State University (CSU)-main campus.
He is the fourth (4th) of the seven (7) children of Evelyn C. Sanchez and his father Danilo who passed away when he was 15. His family is now living in Barangay Anahao Daan, Municipality of Tago, Province of Surigao del Sur.
Like other scholars, Philip dreams to provide his family a good future- a kind of future where everything is just on the tip of fingertips. He dreams to house his parents in a nice and comfortable abode.
"I want to build a house for my mother and for my siblings so we could live together as a family. I am so thankful to God because as I journey to achieve my dreams, Pantawid Pamilyang Pilipino Program is with our family along the way," he shared.
Driven with dedication inspired by his life experience, Philip is so eager to help his parents to have a good life. Among his seven (7) siblings, he is the only one who is fortunate to finish college.
"It is about positive attitude because we need to constantly strive to give our best effort and eventually see ourselves ready to face greater challenges," he relayed.
Testaments of his efforts
Now, with efforts and series of sleepless nights, Philip is a graduating student and is a recipient of the Best Thesis Award (BSAE Program) on his thesis titled as "Design, Fabrication and Performance Assessment of Biomass Fuelled Multi-Purpose Burner.
"My diploma will serve as a reminder of how blessed I am as a person. This is a manifestation of the hard work of my parents and the love of the Government to its people, especially to those who are poor and only have their dreams and aspirations as an armour to escape from the hurdles of life," he added.
Chains of poverty
The ESGPPA aims to contribute in the increase of the number of enrolment in higher education in line with the national government's priority degree programs among poor households, and support college graduates' entry to labor markets through placement assistance. A student-grantee receives a maximum of Php60,000.00 scholarship grant per school year or consisting to Php30,000.00 per semester.
This is broken down to Php20,000 per year for the tuition fee, and Php5,000 per year for the textbooks and other learning materials.The remaining Php35,000, which is distributed to Php3,500 per month, is allocated for the stipend for the board and lodging, transportation, clothing, health/medical needs, basic school supplies and other related costs.
Support from different institutions
The CHED and DSWD spearheaded the SGPPA in 2012. It is a supporting arm that enables potential children of Pantawid Pamilya partner-beneficiaries who really have the determination to succeed and become productive workforce of the society and contribute to inclusive economic development.
Pantawid Pamilya or Conditional Cash Transfer (CCT) is a flagship poverty alleviation program of the government that provides cash grants to poor families with health grant worth P500 and educational grants worth P300 to P500 each to the children studying in elementary and high school.
It aims to keep the children healthy and educated and teaches the parents to be productive or have positive change of behaviour towards poverty wherein they are being taught the value of good health and education as a key to fight poverty. Also, the program is a way to motivate beneficiaries on how to explore their capacity to attain progress so that they will not hand over to their children the same poverty that they had lived with and struggled to cope for a long time.