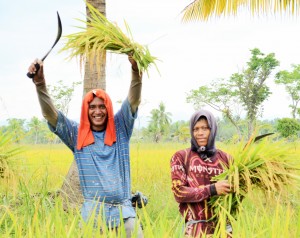 "Dakong kalipay ug pasalamat alang sa mabungahong ani (Extreme joy and gratitude for a bountiful harvest)," said the happy reapers of Mahogany Sustainable Livelihood Program (SLP) Federation in Butuan City.
Established in 2014, the 68 partner-beneficiaries of Pantawid Pamilya Pilipino Program of the mentioned group agreed to fuse their Self-Employment Assistance Kaunlaran (SEA-K) funds to put up a General Merchandise.
Blessed with a positive profit, the group ventured on rice production. A 5-hectare land is rented by the group since last year.
Chiquito Paleke, husband of one of the members, has been taking care of the farm since it started.
"Gihigugma nako ang pag-amuma sa uma (I love nurturing the farm)," said Chiquito.
"Nakita nako giunsa pagtabang ani nga proyekto ang mga miyembro pinaagi sa dugang panginabuhian sa mga miyembro sa grupo (I saw how this project has helped the group in terms of additional livelihood)," he added.
During harvest time, Chiquito is being assisted by the husbands as well other members of the group. They have been practicing "bayanihan" from pre to post harvest activities. They passionately extend help without expecting in return.
During 1st and 2nd cycle of harvest, the group harvested 327 of sacks of rice. They are now looking forward to 3rd cycle in September.
They have been distributing these sacks of rice to all the SLP associations that are engaging in general merchandise project and with some hotels in Butuan City.
With a growing income and additional interventions from SLP, the group has also ventured on catering services, micro-lending and goat-raising livelihood projects.
SLP is one of the anti-poverty programs implemented by DSWD. It is a community-based capacity-building program that seeks to improve the socio-economic status of its participants. It has two (2) tracks namely Microenterprise Development and Employment Facilitation. ###(MARY CARMELLE C. JUMAWAN/Social Marketing Unit/DSWD Field Office Caraga)