For years, households in Anibongan, Lingig, Surigao del Sur have thrived from the bounties of the gifts of nature. For a fishing community, the richness of Anibongan River, has been a blessing to the people in the village.
But with the bounties of nature also comes the dangers it possesses. With the unpredictability brought about by climate change, and the human-caused destruction of the environment, there is now a challenge for communities to adapt.
Typhoon Pablo
In the past, Anibongan has constantly experienced bad weathers which have caused flash floods and sea level rise in their barangay. But there have been changes lately – changes that Barangay Chairman Martin Mabuna, Jr. considers very serious, especially for their community.
"Ania man kami duol sa suba, duol pa gyud sa bukana, aduna gyud mga panahon mosaka ang tubig, mobaha gayud panalagsa dinhi sa among lugar. Pero sugod nga nag bagyong Pablo, lahi na ang lebel sa tubig nga gaabot sa among lugar. Sobra na ka taas. Gamay'ng ulan, baha na dayon (Our community is by the riverbank, and we are near the mouth of the river. There are definitely instances when water level rises and causes flooding here in our area. But since Typhoon Pablo happened, the water levels have been extremely high. Even with minimal amount of rain, flooding occurs)," Mabuna said.
Houses and livelihood were destroyed when Typhoon Pablo struck Mindanao in 2014. Irene Balingan, a resident of Brgy. Aninongan, was among those who lost her home to Pablo.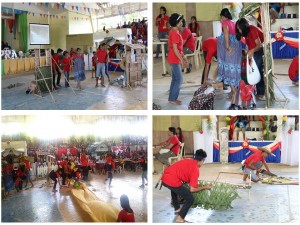 "Daghan nahapay tungod sa Pablo. Mga fish ponds naanod mga isda. Mga balay nabahaan, napalid sa kusog nga hangin. Ang uban hantod karon baon sa utang tungod sa damage ni Pablo (Many people lost a lot during Pablo. Fish ponds  were destroyed, houses flooded, roofs ripped by strong winds. Some people are still in a lot of debt because of the effects of Pablo),"  Balingan said.
Persistent Flooding
Residents of Brgy. Anibongan thought that the incident during Typhoon Pablo was just an isolated case. They thought no weather disturbance could bring back that much devastation. But they were wrong. In 2015, even low-pressure area (LPA) and Inter-tropical convergent zone (ITCZ) disturbances with moderate raining now cause floods in their barangay.
"Dako gyud ang epekto sa climate change. Dugangan pa sa epekto sa logging sa kabukiran, dali na gyud magbaha dinhi sa among barangay. Ubos man gud ning Anibongan mao motaas gyud ang tubig ug kusog ang agas gikan sa bukid ug ta-ub ang dagat (Climate change really has a great impact in our problem. Add to that the illegal logging activities in the mountains, flooding is now a serious matter. Anibongan is a low-lying barangay (below sea level) that is why floods occur when river current is strong and it is high tide)," she added.
The Barangay Local Government Unit (BLGU), together with the Municipal LGU are looking into the problem. But with limited funds, and other problems to consider, there is still no concrete action to solve the problem.
"Nasugdan naman namo na ug butang ug sand bags ang uban areas kilid sa suba pero moapaw gyud gihapon ang tubig. Pila ra pud ang pondo sa barangay mao ginagmay nga preventive measures pa lang among nabuhat (We started putting sand bags on some areas along the river bank, but flooding still occurs. We have limited funds that is why we could only do so little, only preventive measures," Mabuna quipped.
One Voice: Flood Control
The flooding problem was considered an alarming issue which needs to be addressed by the residents of Brgy. Anibongan. In the later part of 2015, the community has suffered episodes of flooding, causing damage to property, and worse, health problems to the people. The people wanted an immediate solution, they never thought that they were the solution to their problems.
The Kapit-Bisig Laban sa Kahirapan – Comprehensive and Integrated Delivery of Social Services, or more commonly known as Kalahi-CIDSS, became the opportunity for them to realize their dreams. The unique concept of the program, where the community decides on the sub-projects to fund, in response to their most pressing needs, was something the community looked forward to being part of.
"Sobra among kalipay kay naay Kalahi-CIDSS sa Lingig. Mahatagan ra gyud ug kasulbaran among problema (We are so extatic that Lingig has Kalahi-CIDSS. Now, our problems will have a solution)," Balingan said.
Sure enough, when Kalahi-CIDSS started in Lingig, the people showed interest in the program, resulting to 95% attendance during the first barangay assembly. During the conduct of the Participatory Situational Analysis (PSA), an activity where members of the community are facilitated to identify their most pressing needs, and come up with possible solutions for the identified needs.
One resounding message came up during the PSA. The people needed flood control measures for their community.
With results of the PSA, the community came up with volunteers who would compose their Project Preparation Team (PPT), in-charge of crafting their sub-project proposal and facilitating the necessary documents. Irene was entrusted to lead the team; she was unanimously voted to become PPT Chairperson.
"Kahibalo ko dako ni nga responsibilidad ang pagka volunteer, pero misugot ko sa pagdawat sa obligasyon kay ang among komunidad man ang matabangan, lakip na diha akong pamilya (I know that volunteering has a lot of responsibilities, but I gave my commitment because I know that this will really help my community, including my family)," she said.
From Dream to Reality
Brgy. Anibongan was ready with their sub-project proposals. After weeks of being capacitated through trainings and provided technical support by the Kalahi-CIDSS workers, Irene and the rest of the PPT were now ready with their community's proposal for the 150 linear-meters flood control sub-project. It was then ready for the Municipal Inter-Barangay Forum (MIBF), a venue where all the barangay sub-projects are subjected to be critiqued by other barangay representatives and rated, based on a criteria agreed upon.
During the MIBF, volunteers dramatized their dire need for their sub-project. They were all out to convince everyone that their proposal is indeed very important for their community. Indeed, their presentation, and the merits of their proposal convinced the rest of the other barangays that they really needed the flood control sub-project.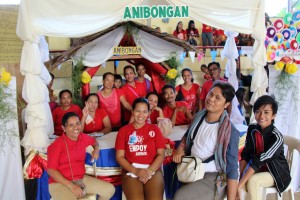 At the end of the activity, Barangay Anibongan came second among all the eighteen (18) barangays vying for fund prioritization. This means that their Php 3,189,613 worth flood control sub-project is ensured of funds for implementation.
The community rejoiced of the feat they have achieved together. They can now shift gears and start working on their sub-project. This means more volunteers, more people to work on the solution for their problem.
Irene was teary-eyed after she saw that they got the second slot for the prioritization. "Nawala ang tanan ka kapoy nga among gibati pagkita namo nga na-prio na mi. Mahatagan na gyud ug alibyo ang among problema (All the exhaustion we felt disappeared when we saw that we were prioritized for funding. At last, we will be able to have a solution for our problems)," she said.
After the MIBF, the barangay will now choose volunteers who will be part of the sub-project implementation, including the canvassing and bidding of materials and service providers for their sub-project. The community will continue on until their flood control sub-project will be completed, and they will ensure that they keep it operational.
Who would have thought that a community looking for solutions to their problems, would end up being the solution to their own problems?