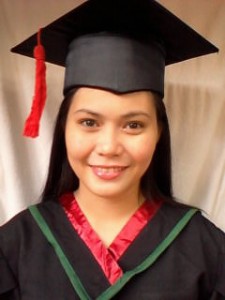 It all started with a vision.
Hopeful Irene P. Tira once envisioned herself helping children and molding them so they could achieve a quality life.
"I want to inspire children to live for their dreams and to never give up," she shared.
Having a first-hand experience of poverty, she desires to teach the young people that poverty is never a reason to give up.
Irene is one (1) of the 61 Expanded Students Grants in Aid Program for Poverty Alleviation (ESGPPA) scholars in Caraga Region who are set to graduate this month.
At 21, she will receive her diploma for the degree Bachelor of Arts in Philippine Literature at Caraga State University (CSU) Main Campus in Ampayon, Butuan City.
Irene is the youngest of the four (4) children of Felix and Remedios Tira who is residing in Purok-3, Dona Flavia, San Luis, Agusan del Sur.
Her father works as a carpenter while her mother as a house keeper. Her eldest sister Janice, 30, sometimes sends her money for allowance. Janice is also a graduate of the same institution previously called as Northern Mindanao State Institute of Science and Technology (NORMISIST) while her two (2) brothers Felix, 27, and Ariel, 29, did not make it to college because both prefered to work to help their parents augment their daily needs.
Understanding their situation, Irene works hard and engages part-time jobs.
"I was tempted before not to go to college and settle in helping my parents and find work but I was called for a vocation," she related.
"The ESGPPA scholarship then came into the picture and has given me courage to live up for my dreams and opened me windows of opportunities," expressed grateful Irene.
"I am blessed to have supportive parents and to have this scholarship," she added.
Irene remains strong and courageous in believing in herself that she can turn the chronicles of her story into positive.
Proud and grateful, Irene will graduate this year as recipient of various awards like Best Student Teacher for Classroom Management and Department Activity Award for Literature (Pagkukuwento).
The ESGPPA aims to contribute in the increase of the number of enrolment in higher education in line with the national government's priority degree programs among poor households, and support college graduates' entry to labor markets through placement assistance. A student-grantee receives a maximum of P60,000 scholarship grant per school year or P30,000 per semester.
This is broken down to P20,000 per year for the tuition fee, and P5,000 per year for the textbooks and other learning materials.The remaining P35,000, which is distributed to P3,500 per month, is allocated for the stipend for the board and lodging, transportation, clothing, health/medical needs, basic school supplies and other related costs.
The CHED and DSWD spearheaded the SGPPA in 2012. It is a supporting arm that enables potential children of Pantawid Pamilya partner-beneficiaries who really have the determination to succeed and become productive workforce of the society and contribute to inclusive economic development.
Pantawid Pamilya or Conditional Cash Transfer (CCT) is a flagship poverty alleviation program of the government that provides cash grants to poor families with health grant worth P500 and educational grants worth P300 to P500 each to the children studying in elementary and high school.
It aims to keep the children healthy and educated and teaches the parents to be productive or have positive change of behaviour towards poverty wherein they are being taught the value of good health and education as a key to fight poverty. The program is a way also to motivate beneficiaries on how to explore their capacity to attain progress so that they will not hand over to their children the same poverty that they had live with and struggled to cope for a long time.