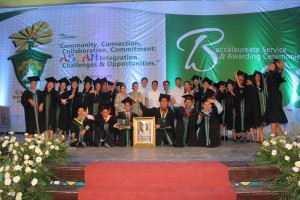 Butuan City– The Department of Social Welfare and Development (DSWD) Field Office Caraga through the Regional Program Management Office (RPMO) of Pantawid Pamilyang Pilipino Program announces 61 scholar-graduates of the Expanded Student's Grants-in-Aid Program for Poverty Alleviation (ESGPPA) for school year 2015-2016.
Seven (7) state colleges and universities (SUCs) in Mindanao Island were tapped to cater poor but deserving students to enrol under the said program. These institutions include Agusan del Sur State College of Agriculture and Technology (ASSCAT) with five (5) ESGPPA graduates, Caraga State University (CSU) with 24, Surigao del Sur State University (SDSSU) with 12, Surigao State College of Technology (SSCT) with two (2), Central Mindanao University (CMU) with 16, University of South Eastern Philippines (USEP) with one (1), while Mindanao State University having one (1).
Regional Director Minda B. Brigoli said that before the 61 graduates became ESGPPA scholars they were carefully screened and assessed by DSWD Social Workers based on their economic and educational status.
"The poor but deserving children of our Pantawid Pamilya parner-beneficiaries are referred to Commission on Higher Education (CHED) which is also DSWD's partner in the program along with the Department of Labor and Employment (DOLE) and the implementing SUCs," said Brigoli.
"ESGPPA ensures that the grantees are enrolled in selected SUCs duly recognized by CHED, channelled to CHED priority courses, and be extended the needed support that will guarantee completion of studies, thus qualify them for high-value added jobs in the future," she added.
The CHED and DSWD spearheaded the SGPPA in 2012. It is a supporting arm that enables potential children of Pantawid Pamilya beneficiaries who really have the determination to succeed and become productive workforce of the society and contribute to inclusive economic development.
The ESGPPA aims to contribute in the increase of the number of enrolment in higher education in line with the national government's priority degree programs among poor households, and support college graduates' entry to labor markets through placement assistance. A student-grantee receives a maximum of P60,000 scholarship grant per school year or P30,000 per semester.
This is broken down to P20,000 per year for the tuition fee, and P5,000 per year for the textbooks and other learning materials.The remaining P35,000, which is distributed to P3,500 per month, is allocated for the stipend for the board and lodging, transportation, clothing, health/medical needs, basic school supplies and other related costs.
Age of potential scholars must be 16-20 years old and must be willing and interested to become a student beneficiary. Moreover, an upcoming student grantee must pass the entrance examination set by the respective SUCs. However, in case the number of potential beneficiaries exceeds the allocated slots, grade requirement is applied. Students belonging to the upper 20% of the graduating class will be prioritized.