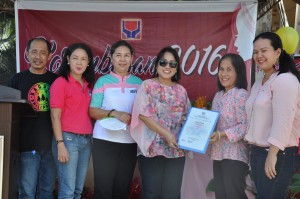 Butuan City – The Department of Social Welfare and Development (DSWD)-Caraga is now celebrating with the Level 3 Accreditation of one of its centers in the region- the Home for Girls.
In achieving the said accreditation, the center had satisfactorily complied with the Third Level standards in the implementation of Residential-Based Programs and Services for Women and Children.
Valid for five (5) years unless suspended or revoked prior to its expiration, this certification is in compliance with the provision of Section 23, Republic Act 4373 "An Act to Regulate the Practice of Social Work and the Operations of Social Work Agencies in the Philippines and for Other Purposes".
This accreditation standards and tools are developed and provided by the Standards Bureau of the Department in consultation with the internal and external stakeholders.
Signed by Undersecretary Angelita Y. Gregorio-Medel, the Certificate of Accreditation was personally handed by Regional Director Minda B. Brigoli to Center Head Fe Saumat during the Korambusan 2016 held at the Field Office Grounds, this city.
Brigoli articulated excitement upon having this accreditation.
"We are glad that one of our centers received the highest standards, which make it exemplary," she said.
"This accreditation simply means that our center complied/is compliant with the Must (mandatory standards) and Desired (higher standards) indicators," Brigoli added.
The following are the Standards which were met by the center: Administration and Organization, Program Management, Case Management, Helping Strategies/Interventions, and Physical Structures and Safety.
Located in Butuan City, the Home for Girls is a residential institution that provides protection, care, treatment and rehabilitation to abused and exploited girls below 18 years old.
The Home for Girls in Caraga Region is a project of DSWD Field Office XIII jointly ventured by the Butuan City Government and the Rotary Club of Butuan North (RTBN). The city government donated the 6,521 square meters lot while RTBN gave some financial support for the construction of the building and outdoor facilities.
The center started its operation in November 1997. Since then, it has accommodated and provided appropriate services to the sexually abused, exploited and maltreated children in the region based on their needs. ###(Social Marketing Unit/DSWD Field Office Caraga)