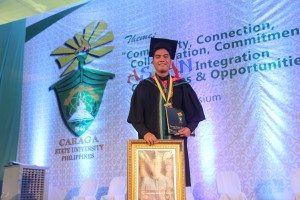 "Being an outstanding student does not necessarily mean being academically excellent," claimed Jerry Lelis Bual, one (1) of the 61 graduating Expanded Student's Grants-in-Aid Program for Poverty Alleviation (ESGPPA) scholars of Caraga Region.
"One can be outstanding if he/she is able to touch lives and inspire others by works and eventually leave a legacy," he added.
Jerry comes from a broken family. His mother, Bernadette is a fruit and vegetable vendor. Together with her grandmother Susana and sister Jenny, they live in Purok-4, Barangay 18 Obrero, Butuan City.
When his father left them at the age of five (5), Jerry learned to become independent.
During his vacant time, he helps his mother in the market to sell fresh vegetables and "kakanin". This reality has challenged Jerry to do well in his studies and conquer his fears in life.
A dedicated student, he was granted a scholarship sponsored by the World Vision Philippines since elementary up to high school.
When he was in college, Jerry was granted a scholarship under the ESGPPA of the Pantawid Pamilyang Pilipino Program.
"I really thought that I would not make it to college. I was hopeless then that my dreams to finish a degree will not be realised because I know that my mother cannot financially support my college education," said Jerry.
"But I was so fortunate to be selected as one of the lucky grantees of the ESGPPA and I am more inspired to continue doing my best," he added.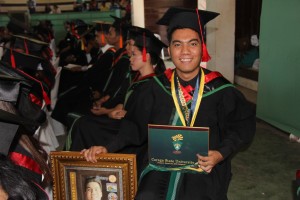 "It also gave me the opportunity to achieve more, to never stop dreaming and never underestimate my potentials," shared Jerry.
Aside from being good in the academics, Jerry has also polished his leadership skills by joining trainings. Some of the activities he attended is the National Children's Congress sponsored by the World Vision Philippines, Caraga State University (CSU) Debate Squad as President, 7th PASUC literary and cultural festival as National Extemporaneous Speaker, interschool debate competition champion, and CSU student council senate president.
In his graduation day on April 12, 2016, he will be receiving the following awards: College Leadership Awardee and Second Place College Best Thesis award. These awards made Jerry as one of the ten (10) outstanding students in Caraga given by the Rotary Club Central Butuan.
His efforts and hard work did pay off. These inspired him to dream more for himself and for his family as well. Jerry wishes to take a degree in medicine and hopes to take his specialization in Dermatology.
The ESGPPA aims to contribute in the increase of the number of enrolment in higher education in line with the national government's priority degree programs among poor households, and support college graduates' entry to labor markets through placement assistance. A student-grantee receives a maximum of Php60,000.00 scholarship grant per school year or P30,000.00 per semester.