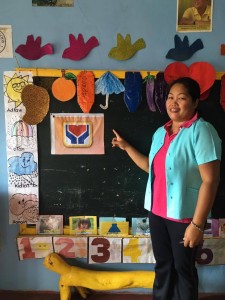 ---
For a person to succeed one should have faith and confidence in his abilities.
This was the strong statement of Rose Marie G. Alocber, 35, a self-sufficient partner-beneficiary of Pantawid Pamilyang Pilipino Program in Purok-16, Sitio Bingay, Salvacion, Bayugan City.
Rose is married to Presco Arpun Alocber and is blessed with three (3) children, all boys namely, Hans Jomart Kont, 14, Hans Steven, 13, and Hans Dwight, 11.
Unfaithful past
Before she became a grantee of Pantawid Pamilya, Rose was struggling to provide the needs of her family. Her husband only works as a labourer whose income cannot suffice the needs of their children in school and their daily needs as well.
Seeing this situation, Rose decided to work abroad in 2008 as a domestic helper in Hongkong but eventually came home a month after because she suffered maltreatment from her employer.
When Rose came home from Hongkong, she decided to work as a day care worker in her hometown earning P3,400 a month.
New found hope
Last 2011, she was identified as a recipient of Pantawid Pamilya and received an initial grant of P2,800. Since she has already allotted money for her children's health and education needs for the month,Rose decided to use the initial grant to raise hogs. She was hoping that it will be a wise investment.
From one (1), she now has 72 piglets and growing. Her continuing hard work and dedication pushed Rose to strive harder so she could sustain the needs of her children.
"I do not want to go back to the past most especially those sad memories," she shared.
"Even though those were the foundations of who I am today and will be in the future, those will remain sad memories," Rose emotionally related.
"Despite everything, my involvement in Pantawid Pamilya helped me to regain my confidence in myself and strengthened my faith," she added.
Her efforts flourished beautiful opportunities for her children and for their whole family. Because of hardwork, from the old "bahay-kubo" where they used to sleep at night, now, Rose and her family abodes in a comfortable house for her children through her income from raising hogs.
Multiple blessings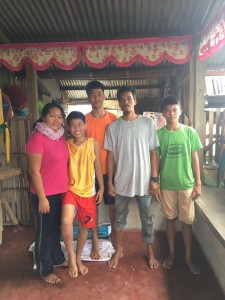 Just last March, Rose earns P24,000 from her hogs and decided to buy a 30-inch flat screen television, to plant 100 pieces of falcata tree, to raise ducks, and to widen the space of hog-cages.
Aside from those business ventures, Rose is also happy working as a daycare worker in their barangay.
"Being a daycare worker, I have the opportunity to mold little children at their early age and serve as their second mother,"uttered Rose.
Other than being a teacher, she also enjoys being a parent leader who guides and motivates her fellow partner-beneficiaries.
Rose and her husband Presco are both grateful to have Pantawid Pamilya. The program has helped them to see the best in them.
As said by Rose, one thing that she learned about Pantawid Pamilya is thatb it taught her to stand on her own.
"After the many years, I became a member, now, I can strongly say that with or without the program, I can go along with life," she narrated.
"Just believe and have faith in yourself; these are the greatest foundations you can have in life," Rose stated.
Pantawid Pamilyang Pilipino Program, also known as Pantawid Pamilya and formerly Ahon Pamilyang Pilipino, is a conditional cash transfer (CCT) program of the Philippine government under the Department of Social Welfare and Development (DSWD). It aims to eradicate extreme poverty in the Philippines by investing in health and education particularly in ages 0–18. It is patterned on programs in other developing countries like Brazil (Bolsa Familia) and Mexico (Opurtunidades)###