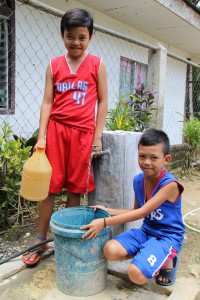 Simple joys are those that are priceless!
Simple joys, just like in the case of the first time families and households have easy access to potable water right by their homes, is what makes Kalahi-CIDSS an effective anti-poverty alleviation program of the national government.
The community at Brgy. Magupange, Placer, Surigao del Norte is a testament to these simple joys. The community has just completed their 1,500 linear-meters water system community sub-project (Rehabilitation/Improvement) which has improved access of the households to potable water.
A few months back, households from two (2) puroks used to share two (2) common sources. And with the worn out pipes of the system, there was an uneven supply to both of the faucets used.
But now, with the improvements, water supply is evenly distributed. And to add impact, eight (8) tap stands have been provided in strategic locations. A s