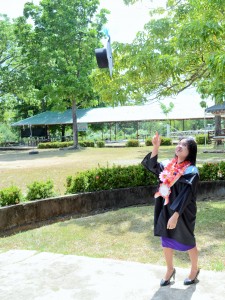 A wise adage says, a dream is the seed of possibility planted in the soul of a human being, which calls him to pursue a unique path to the realization of his purpose.
This saying has been the mantra of Jacqueline E. Verano, one of the eight (8) grateful scholars of Gigaquit Sustainable Livelihood Program (SLP) Federation in Gigaquit Surigao del Norte.
Jacqueline just graduated with the degree of Bachelor of Secondary Education – Major in TLE and Agriculture in Surigao State College of Technology (SSCT).
Established in 2013, the 220 partner-beneficiaries of Pantawid Pamilya Pilipino Program of the aforementioned federation agreed to fuse their Self-Employment Assistance Kaunlaran (SEA-K) funds to ensure economic sustainability.
Blessed with an increased number of enterprises and profit, the group agreed to provide scholarship grants to eight (8) children of Pantawid Pamilya grantees.
The federation prioritizes children with good school performance and shoulders the tuition fee of these college students.  In return, the scholars should ensure passing and good grades.
"Financial problem is the hardest thing faced by the poor people but there is always hope and people who will help you achieve your dream," said Jacqueline.
"Gigaquit SLP Federation played a vital role in achieving my dreams and I'm deeply grateful for that," she added.
"Because of the federation, I am now confidently shooting for the stars," she concluded.
Jacqueline has received a scholarship for her board exam, and, the federation agreed to continue providing assistance by shouldering her lodging and meal allowance.
SLP is one of the anti-poverty programs implemented by DSWD. It is a community-based capacity-building program that seeks to improve the socio-economic status of its participants. It has two (2) tracks namely Microenterprise Development and Employment Facilitation. ###(MARY CARMELLE C. JUMAWAN/Social Marketing Unit/DSWD Field Office Caraga)