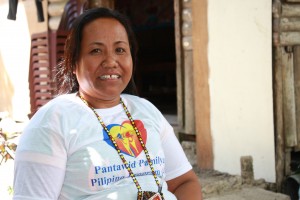 Without her, it would have been a lonely world to Adoralin's children for she takes the sole responsibility of sending them to school and providing their needs.
Adoralin Atis Miones, 42, is an active Pantawid Pamilya partner-beneficiary from Nasipit, Agusan del Norte. She is a solo parent for nine (9) years now after being separated from her husband. From a plain housewife, Adoralin transformed to being a single motor driver whose daily income ranges from 200-250php. On her vacant time, she sells products of Avon, Natasha and MSE to her passengers and to neighbours.
My children, my inspiration
According to her, life now is better with her children because she is more inspired to work believing that all her efforts are for their future.
"It is a goal of every mother to see her children in school, happily attending classes and eventually, see them graduate from their respective degrees," Adoralin said.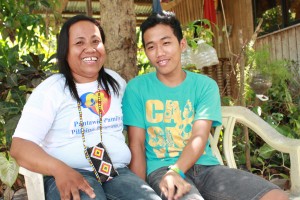 Now, her eldest John Michael is studying in Northwestern Agusan Colleges with the degree of Bachelor of Science in Business Administration. Her second child Oliver is a CHED scholar, who is now a second year college student taking the degree Bachelor of Education major in Elementary Education while Adrian and Aldea are now studying in Nasipit Central Elementary School.
A quote from Agatha Christie says, "A mother's love for her child is like nothing else in the world. It knows no law, no pity, it dates all things and crushes down remorselessly all that stands in its path."
"I will strive harder for my children. I will do everything I can to sustain their needs so they could reach their dreams of finishing their studies in college. I know enough that all the hardships are not forever. Everything I do is for my children's future." she shared.
A Godly mother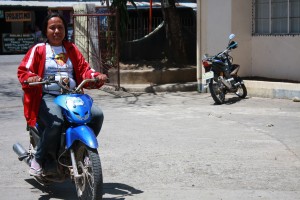 While Adoralin is busy being a solo parent, she never forgets to serve her church. She is a devoted Roman Catholic who always spends time in the church especially during Sundays. Her ability to drive a single motor has been used by their group especially when there are materials or tithings remittances (church collection from members' annual contribution) that need to be delivered to the next barangay.
Her involvement to church-related activities has encouraged her children also to become active members of the church. Her children emulated her passion in serving and helping others.
"I am so happy to have the church because during times of sorrow, when I am deeply in pain, I immediately run to Him and honestly confess my feelings. This somehow is one of the things I have learned in Family Development Session (FDS) special topic on Spiritual Enhancement and Integration." she shared.
Achieving self-sufficiency
Despite the many unfavorable things that happened in their life, Adoralin remains grateful for everything they have now.
"I am thankful that there are still good people in our midst who are more willing to help us. Together, we can make things happen." Adoralin closed.
Now, her household is assessed to be in the self-sufficient level of well-being.
Pantawid Pamilyang Pilipino Program, also known as Pantawid Pamilya and formerly Ahon Pamilyang Pilipino, is a conditional cash transfer (CCT) program of the Philippine government under the Department of Social Welfare and Development (DSWD). It aims to eradicate extreme poverty in the Philippines by investing in health and education particularly in ages 0–18. It is patterned on programs in other developing countries like Brazil (Bolsa Familia) and Mexico (Opurtunidades)###SocialMarketingUnitDSWDFieldOfficeCaraga###