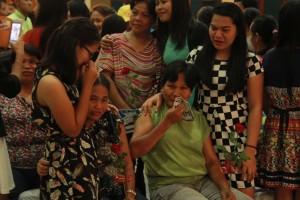 Butuan City– Forty-five (45) of the 61 Expanded Students' Grants-in-Aid Program for Poverty Alleviation (ESGP-PA) scholar-graduates paid tribute to their parents during Padayag 2016 which was successfully held on May 12 in Almont Hotel's Inland Resort, this city.
Padayag is a Visayan term which means to show is an advocacy activity of the Department of Social Welfare and Development (DSWD) being facilitated by the Social Marketing Unit (SMU) in coordination with the Regional Program Management Office (RPMO) of the Pantawid Pamilyang Pilipino Program.
During the course of the event, the graduates sung the song Thank You to express their gratitude to their parents who guided and helped them reach their dreams. With the song was a flower, a red rose, that symbolises their love and care for their parents who took good care of them.
In his message, Jerry Bual, an ESGP-PA scholar-graduate from Caraga State University (CSU) extoled DSWD Field Office Caraga for its intervention and for bringing him closer to his life aspirations.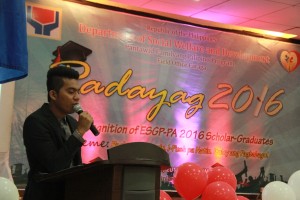 "It was not an easy journey to graduate in college. I have been through thick and thin circumstances that challenged my belief and my faith to myself. I really thought that graduating from college is a blurry vision. But with DSWD and the Pantawid Pamilya, their initiatives to school poor but deserving students have made me accomplishe this victory," he said.
Jerry is a recipient of The Outstanding Student in Caraga (TOSCA) award given by the Rotary Club of Caraga during this year's CSU commencement exercises. He is also one (1) of the 61 ESGP-PA scholars who graduated this year.
"I am honored to receive the scholarship grant because among the many deserving applicants, I was chosen and got to apply to my preferred course. ESGP-PA is a true instrument of the government in helping the poor whose dreams are wide and whose aspirations to alleviate their lives from poverty are genuine. I will forever bring the honor because once in this lifetime, I was once a product of the program," he added.
Of the 61 ESGPPA graduates, 22 of those are from Agusan del Norte, 14 are from Agusan del Sur, five (5) are from Dinagat Islands, four (4) from Surigao del Norte, while the other 16 are from the province of Surigao del Sur.
While parents of the graduates are proud of their children's achievements, DSWD-Caraga Regional Director Minda B. Brigoli expressed first her gratitude to the parents of the graduates for their unlimited support and for guiding their children in achieving their dreams. She also applauded the graduates for making their dreams to graduate in college a reality.
"Parents are true angels to their children. They guided them and made them the person they are now. They also serve as light to them during their crises hours and on times when things are in doubt. These are just some of the tangible attestations that made mothers the "Ilaw ng Tahanan", uttered Brigoli.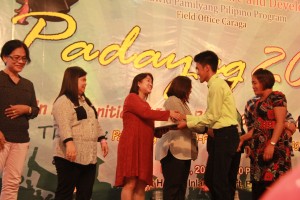 "To the graduates, continue to inspire yourselves to dream more. Graduating from college is just the beginning towards the realization of your goals in life. May this humble beginning serve as a legitimate proof to you that Government's program are really intended to help the most poor, vulnerable, disadvantaged but deserving students," she quipped.
"Let the light shine upon you. May this year's Padayag with the theme "Pagbabago Namin. I-Push pa Natin! Ituloy ang Pagbabago"ink your commitment to become an inspiration to others," closed Brigoli.
Aside from Brigoli, regional directors from the National Economic and Development Authority (NEDA), Department of Tourism (DOT), Department of Science and Technology (DOST), and representatives from other partner-agencies and selected State Universities and Colleges (SUCs) like the Caraga State University (CSU), Surigao del Sur State University (SDSSU), and  Agusan Sur State College of Agriculture and Technology (ASSCAT) were also present to witness the success of the 61 graduates.
Along with the said event was the launching of the 1st quarter CY 2016 issue of Caraga Frontline, the official publication of DSWD Field Office Caraga.
This year's celebration is the second time the Field Office conducted a Padayag. Last year was the first one which highlighted the graduation of high school student-beneficiaries of Pantawid Pamilya###SocialMarketingUnitDSWDFieldOfficeCaraga###