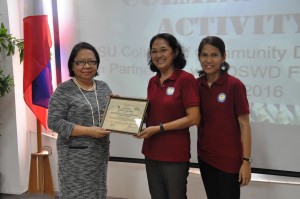 Butuan City – After their immersion into Kapit-Bisig Laban sa Kahirapan – Comprehensive and Integrated Delivery of Social Services (Kalahi-CIDSS) communities in Caraga, Community Development (CD) students from the Mindanao State University (MSU) – Main Campus (Marawi City) are all smiles as they complete their 4-month long practicum which is considered the last part of their journey before completing their bachelor course.
Dr. Marian Myrtle G. Onod, MSU – Marawi CD Department Head was all praises as the pilot partnership between the MSU-Marawi CD Department and the Department of Social Welfare and Development Field Office Carag became successful.
"We chose Caraga as a learning ground for our students since we have been hearing good reviews about the Community-Driven Development program of DSWD, and that the region is among the best implementers of the program. We have CD graduates who now work for Kalahi-CIDSS here in Caraga, and they would attest to the performance of the region. This is why we chose Caraga" Onod said.
During the conduct of the Practicum Recognition held at the DSWD Caraga Conference Hall last May 16, 2016, Onod was thankful that CD has found a true family, a home to call their own through Kalahi-CIDSS, the National Community Driven Development Program (NCDDP) of the government.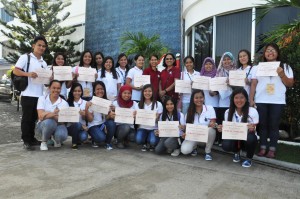 "Before, schools offering CD courses were dependent on agencies with CD engagements. Now, with Kalahi-CIDSS, Community Development has found a family we could call our own. We now have a home which will house our students. Hopefully, more programs will utilizethe CDD approach", she added.
Mita Chuchi G. Lim, DSWD Caraga Assistant Regional Director for Operations, lauded the success of the partnership and hoped that the practicum program would be regularized. "We are proud that we have been part of the growth of these students. Maybe in a few months we could have Kalahi-CIDSS workers coming from this group" Lim said.
Thirty (30) CD student-interns have been strategically assigned in Kalahi-CIDSS implementing municipalities all over Caraga since January 20, 2016 where they have immersed in their areas for a total of 1,000 hours. During their time in the area, they were able to be with the community as they implemented the program, assisting the Area Coordinating Teams in performing/conducting activities for the program.