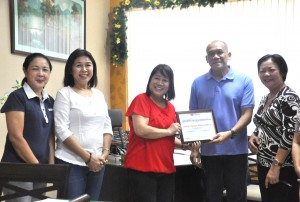 Butuan City – Selected personnel from the Department of Social Welfare and Development (DSWD) Field Office VI visited on May 13, 2016 the Caraga regional office for benchmarking of the Regional Learning Commons (RLC) facility and its experience regarding ISO 9001:2008 certification.
The participants of the two day visit included OIC-Regional Director Rebecca Geamala along with OIC-Assistant Regional Director for Operations Delia Bagolcol, Chief-IDD and Head Standards Unit Perla Haro, Planning Officer Ryan de La Gente, Budget Officer Fredylin Saclote, Training Specialist Representative for CBU L'Michelli Horlador, RLRC Manager Ma. Eloise Garcia and Chief Administrative Officer Leo Quintilla.
DSWD-Caraga's victory as the National Best Regional Learning Resource Center in year 2015 resulted the benchmarking of the different field offices of the Department.
The RLC is a facility that offers Information and Communications Technology (ICT)-based operations and processes to effectively and efficiently carry-out activities and services from the Department. Its mission is to lead in promoting knowledge management in social welfare and protection.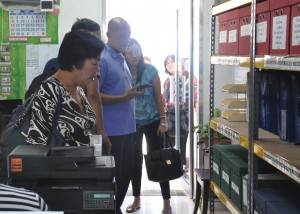 Aside from RLC, the abovementioned personnel also visited the different units of the field office to learn about the basic concepts and protocol in relation to the attainment of the ISO 9001:2008 Certification.
The Field Office was ISO certified last year. The said achievement is an internationally recognized certification which provides a framework for a quality management system that can be easily interpreted for all areas of industry and commerce. It provides a framework for monitoring and measuring process performance and operations ensuring increased efficiency and improved customer satisfaction.
With this, it is expected that another batch of personnel from DSWD-6 will visit the regional office next month for the same purpose. ###(ABEGAIL R. ALVAREZ/Social Marketing Unit/DSWD Field Office Caraga)