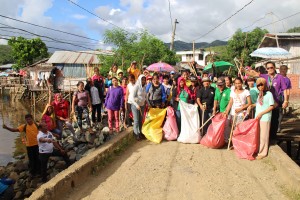 They went out with pointed sticks and sacks. From different barangays, these community volunteers from the municipality of Basilisa, Province of Dinagat Islands united to support a common cause – clean up the coastal areas around their municipal port.
This clean up drive is part of the activities for Kapit-Bisig Laban sa Kahirapan – Comprehensive and Integrated Delivery of Social Services (Kalahi-CIDSS) which ensures the consideration of environmental safeguards in the implementation of community sub-projects that would address the needs of their respective barangay.
Kalahi-CIDSS utilizes the Thematic Environmental Management System (TEMS) to guarantee that their community infrastructure projects would be adaptable to climate change and resilient to man-made and natural disasters. This Community-Driven Development Program believes that more than the provision of infrastructure projects, the knowledge that the community acquires through their TEMS experience would go a long way in maintaining a more sustainable progress in the community.