Every great achievement starts from a simple plan that springs from a certain need, which leads to a relevant solution.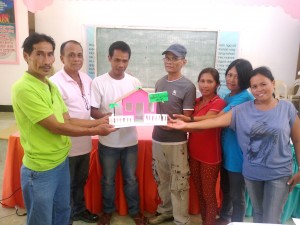 Community volunteers in Barangay Mabahin, Cortes, Surigao del Sur show off their miniature Day Care Center design during the Kapit-Bisig Laban sa Kahirapan – Comprehensive and Integrated Delivery of Social Services (Kalahi-CIDSS) Infrastructure Training. Project Implementation Team (PIT) and Monitoring and Inspection Team (MIT) volunteers shared their talents and ideas as they come up with the design for their community sub-project.
The villagers unanimously chose to propose the said sub-project for the children of Purok 8, which is predominantly composed of Mamanwa families. The children in the said Purok prefer not to go to the regular Day Care Center because the other children bully them, calling them names and making fun of them.
Because of this matter, members of the other Puroks decided to consider the needs of Purok 8, choosing to propose the Day Care Center for the IP community. This great achievement is an unselfish act of kindness from the rest of the community to the Mamanwa families in Mabahin.