Surigao del Sur – The Department of Social Welfare and Development (DSWD) Caraga, through the Sustainable Livelihood Program (SLP), recently conducted series of turn-over ceremonies of Payapa at Masaganang Pamayanan (PAMANA) projects in the three barangays of the municipality of Lianga in this province.
Three (3) SLP Associations from different barangays availed of financial assistance amounting to Php300,000.00 each through DSWD-SLP PAMANA project. With the said funding, a mobile rice mill and  pre & post-harvest equipment have been bought and a concrete solar dryer has been constructed.
Mobile Rice Mill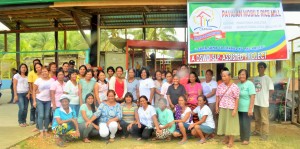 Thirty-six (36) PAMANA grantees of Brgy. Payasan Association received their most awaited mobile rice mill. The said barangay is the second barangay with the largest land area for rice production, thus, having this equipment seem economically viable.
Nelson P. Litcon, the Vice President of Payasan PAMANA Association thanked DSWD after receiving the said equipment.
"Dako among kalipay ug pasalamat na natagaan mi ani na equipment  (We are very happy and grateful that this equipment was given to us)," said Litcon.
"Amo ning pangalagaan aron molahutay among mga plano na mapalambo kini paingon sa pagsulod ug laing negosyo (We will take good care of this so that our plans will be pushed through in improving this towards venturing into other business)," he added.
For the additional materials needed for the operation, the Barangay Local Government Unit (BLGU) will be providing supplies such as tent, containers and other suitable supplies for the business operation.
"Tabangan namu ang association taman sa among makaya kay ang barangay council nagtuo na kini mahimong susi sa kalambuan sa pamuyo sa mga katawhan sa Brgy. Payasan (We will help the association as much as we can because the barangay council believes that this will be one of the keys in improving the lives of the people in Brgy. Payasan)," shared Brgy. Capt. Ronald P. Lim.
Pre and Post-Harvest Equipment
Having rice production as one of the source of livelihood, the 46 PAMANA grantees of Anibongan SLP Association agreed to choose Pre and Post-Harvest equipment as chosen project.
"Tungod ani na proyekto, dili na namu kinahanglan na morenta pa ug gamit alang sa among rice production (Because of this project, we do not need to rent equipment for our rice production)," said Redel S. Delfin, president of the association.
But the use of facilities and equipment is also open to non-members thereby earning more income from its rentals.
"Makakwarta mi ani na proyekto kay amo sab ning iparenta nga makaafford ug dali ra ma access ang mga mag-uuma sa Brgy. Anibongan (We can also earn an income by having it for rent with an affordable price and an easier to access for the farmers of Bgry. Anibongan)," he added.
The BLGU of Anibongan provided the lot for the storage room of the equipment.  The storage room is solely intended for the safekeeping of abovementioned PAMANA projects.
En route sustainable livelihood, the group agreed to engage in "Bigasan ng Bayan" business after a year of operation.
Solar Dryer
 From drying up their seaweeds on the roof of their homes or anywhere where there is a direct exposure to sunlight, the people of Brgy. Manyayay can now enjoy a concrete and wide solar dryer through PAMANA project.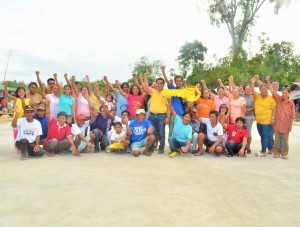 The 56 members of Manyayay PAMANA People Association agreed to use their financial assistance for the construction of their long-awaited solar dryer.
Known for its abundant dried seaweed production, dried seaweed is in demand to the local market of Lianga and even for import.
Aspiring to finish the construction earlier than expected, the community steered into "Bayanihan". Both members and non-members worked hand in hand, thus, making the expense for labor free of charge.
Because the group was able to save the fee for labor, the area of the solar dryer has been increased to 450 sqm.
"Kaniadto mga duha ka adlaw bag-o mouga ang seaweed pero karon na naa na ang solar dryer kay kaya nilang pila ka oras lamang(Before it will take us 2 days before the seaweed will dry-up but a few hours of drying up is now possible because of the solar dryer)," happily shared by Rodrigo F. Camu, president of the association.
"Mahimo sab kining lugar sa panglingaw sa mga kabatun-an ani na barangay aron malayo sila sa mag di maayong buhat (It also serves a venue for recreational activities for the youth of the barangay to refrain them from bad deeds)," he added.
After a year of operation, the group envisions to venture on other business that engages in seaweed production to ensure sustainable livelihood.
PAMANA is the national government's convergence program that extends development interventions to isolated, hard-to reach and conflict-affected communities, ensuring that they are not left behind.  It has a number of national line agencies as implementing partners and one of those is the Department of Social Welfare and Development.
On the other hand, SLP is a program that provides identified poor families the appropriate income-generating opportunities through microenterprise or employment, to help improve their level of economic sufficiency.###(MARY CARMELLE C. JUMAWAN/Social Marketing Unit/DSWD Field Office Caraga)