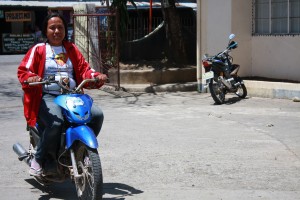 "Being a single mother, it has never been easy for me to sustain the needs of my four (4) children who are all in school. I work all day long so I could bring food for meals and engage extra jobs so I could provide their needs," said Adoralin A. Miones.
"I know I need to ride as many passengers as I can so I could translate our dreams to reality. But it is easier now with Pantawid Pamilyang Pilipino Program which helps me send them to school," she added.
Adoralin, 42, is a solo parent for nine (9) years now and an active Pantawid Pamilya partner-beneficiary whose level of well-being is self-sufficient. She is a single motor driver and a mother to John Michael, 19; Oliver, 18; Adrian, 15; and Aldea, 10. She is one (1) of the nine (9) solo parents in Nasipit, Agusan del Norte who, despite of the challenges are working so hard for their children's brighter future.