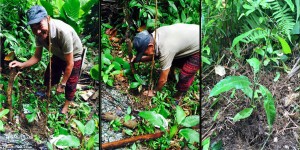 Danilo Entendez volunteered to be part of the tree planting activity for Barangay Cantapoy, Malimono, Surigao del Norte. At his age, he had no hesitations that they would have to walk several miles, on slippery slopes, to reach the area, which is also the water source site (intake box and reservoir) of their Kapit-Bisig Laban sa Kahirapan – Comprehensive and Integrated Delivery of Social Services (Kalahi-CIDSS) community sub-project.
This is part of their environmental and social management sub-project plan which was drafted by the community in collaboration with the Barangay Local Government Unit (BLGU). As agreed during the barangay assemblies, they will plant fruit-bearing trees instead of lumber seedlings to curve away from logging problems in the future. More than 50 fruit trees such as mango, avocado and lanzones were planted around the area. The activity was also initiated in order to conserve the water source and its watershed to maintain and sustain the supply coming from the underground spring.
Aside from the tree planting, the group also conducted a ritual ceremony advised by the Indigenous Peoples in the areas to give respect to the unknown forces that inhabit the area, commonly known as guardians or "Magbalantay." Lolo Danilo entrusts the growth of the trees they have planted to the "Magbalantays", and promises to continue taking care of the trees in hopes that the future generations way benefit from them.